Egyptian Mummy 2 Cardboard Cutout Standup Prop
Egyptian Mummy 2 Cardboard Cutout Standup Prop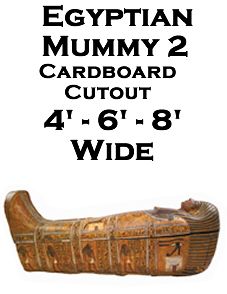 Egyptian Mummy 2 Cardboard Cutout Prop
Awsome Flat Carboard Cutout- Print on one Side.
Pin it to a wall or add the Self Standing Option.
Perfect for photos or theme decoration.
Choose the size you want.
48" Wide x 19" Tall
72" Wide x 29" Tall
96" Wide x 38" Tall
Upgrade ! to Double walled cardboard for extra strength. See Below
Upgrade ! Add a Metal Gromet. So it can hang from string.
One gromet hole lets it spin.
Two gromet holes holds it straight.
High Gloss or Matt Finsh
Manufactured in 5 Business Days. Expidite Service Available. See Below.
Customer feedback
Reviews
There have been no reviews for this product.