Valentine's Entrance Cardboard Prop
Valentine's Entrance Cardboard Prop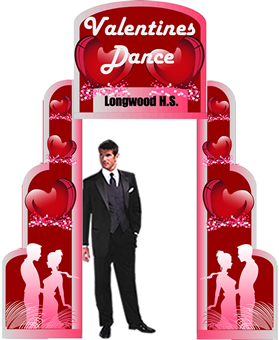 Valentines Entrance Cardboard Kit Prop
This Valentines Cardboard Entrance Kit assembles in under an hour. Comes with all of the predesign componets to assemble at your event.
Order as a Cardboard Self-Standing Facade. (Printed only in the front.)
or
Full 3D Cardboard. Printed both sides. Full 3D Entrance is 7" Thick.
Takes 5 Days to Manufacture. Expidite Service Available.
Add your Own Custom Wording at the top. (Ex: Longwood H.S. shown in sample)
Approx 10 Feet Tall
Customer feedback
Reviews
There have been no reviews for this product.