Big 3D Castle Foam Prop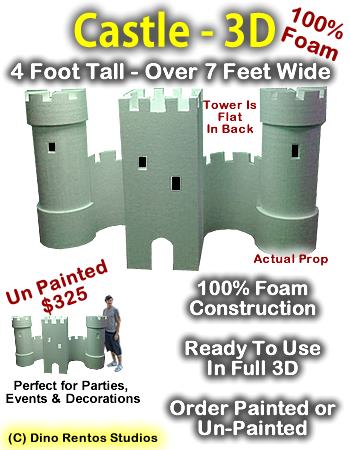 Big 3D Castle Foam Prop
This 4 foot by 7 foot 3D foam facade castle is great for any fantasy or medieval themes!
The castle is 3D sculpted in the front with a flat back.
Order multiple of these to make a larger foam castle display.
Order it fully painted and ready to use, or unpainted so you can paint it as a project.
Pick your color below:
Grey: Like a regular castle
Pink: For a Girls Princess castle
White: Castle In the sky - Put cotton around it
Red or Black: Evil Forces Castle
Blue: Ice Castle
Green: Earth Castle
Upgrade to Hard Coated so it feels and looks like rock.
Comes with extra sturdy box for storage.
Add a rock mountian top under the castle (not shown). Adds 12" to the height. Castle sits on rock mountain top. 8 foot wide by 12" tall by 2 feet deep.
Call for pricing on multiple quantity and savings on shipping.
Call us for custom versions.
Please Note: Items over 30" may require an additional charge at time of shipment.
Customer feedback
Reviews
There have been no reviews for this product.

Select By Theme

Popular

Categories

Authentication