DeskProto - 3D CAM software
DeskProto - 3D CAM software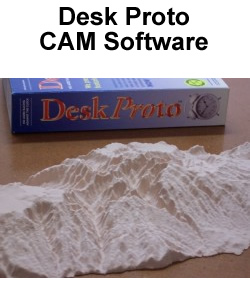 DeskProto offers 3D CNC machining for non-machinists.
DeskProto is a 3D CAM program (CAM = Computer Aided Manufacturing).
It can import STL files from any 3D CAD program, calculate CNC toolpaths and
then write NC program files for any CNC milling machine: 3-axis, 4-axis and 5-axis.
Machine your own model, mold or product ! For more information read the Essentials.
DeskProto is aimed at designers for Rapid Prototyping, at jewelers for wax models, artists for
sculptures, medics for prostheses, moldmakers, woodworkers, teachers, students, hobbyists, etc..
DeskProto is fast, it's lowcost and it's very easy to work with. Download your free Trial version and start milling today !
Expert and Multi Axis Version Available.The Expert Edition offers a wealth of options for CNC machining.
In the Expert edition all DeskProto options are available except for the rotation axes. The result is a CAM program that allows you to produce even the most complicated models.
A few of the features that the Expert Edition offers you:
Two different user-interfaces: the wizards to get you started, and the dialogs to exploit all options
Extremely fast calculations, also for complex geometries
Large STL files are possible: 500 MB is no problem, for the 64 bits version even up to several GB
3D machining, simple 2D machining and bitmap machining all in one program
The ability to freely add cutters, machines and postprocessors
A very intuitive user-interface.
---
Multi-Axis edition offers all Expert options plus four-axis and five-axis machining.
In the Multi-Axis edition all DeskProto options are available. The result is a CAM program that allows you to produce even the most complicated models.
The extra features that DeskProto Multi-Axis offers:
Continuous Rotation axis machining: during machining the part is rotated by the machine's fourth axis.
Indexed Rotation axis machining: the fourth axis is used to machine the part from several sides.
Five-axis machining (indexed): the model can be machined from almost all sides.
Contact us for details
Customer feedback
Reviews
There have been no reviews for this product.