Mayan - Yaxchilan Lintel Cardboard Cutout Standup Prop
Mayan - Yaxchilan Lintel Cardboard Cutout Standup Prop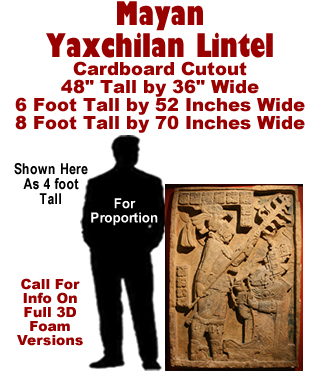 Mayan Yaxchilan Lintel Cardboard Cutout Prop
Flat Carboard Cutout- Print on one Side.
Pin it to a wall or add the Self Standing Option.
Perfect for your Mayan Theme or event.
Choose the size you want.
Or call us for custom Versions
Upgrade ! to Double walled cardboard for extra strength. See Below
Upgrade to plastic cardboard for outside use
Upgrade ! Add a Metal Gromet. So it can hang from string.
Add a motion activated Sound recorder
Print comes in plain Matt Finish.
Add Lamination, which adds a plastic film on the print. This allows you to wipe the print off and is water resistant
Add Lamination of High Gloss for a shiney bright look
or Matt Finsh Laminate for photographs and low reflection needs
Manufactured in 5 Business Days. Expidite Service Available. See Below.
Call For Custom Sizes.
Customer feedback
Reviews
There have been no reviews for this product.