Pirate's Revenge - Cardboard Facade Pirate Treasure Ship
Pirate's Revenge - Cardboard Facade Pirate Treasure Ship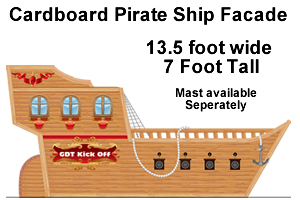 Pirate's Revenge - Cardboard Facade Pirate Treasure Ship Prop
The Pirate's Revenge cardboard ship prop is a Dino Rentos Studios exclusive design.
This Pirate ship cardboard prop is a self-standing ship. Perfect for stage, events and parties.
On stage, put a riser behind it to look like you're on-board!
Optional mast adds even more excitement.
We preconfigure the cardboard sections with velcro for easy disassembly, storage and reuse.
Our most popular Pirate Ship prop.
Assembles in under an hour. For Indoor Use.
This is a flat façade cardboard display prop. It is not three-dimensional (3D).
Production time for this product is 2 weeks.
Customer feedback
Reviews
Author: Lauren Hunsinger
Very disappointed with this product. Over priced and not worth the money IMO.
This ship is not SELF STANDING - the adhesive stickers were not effective. It says on line that the piece weighs 30 lbs. it actually weighs 22 lbs.
I ordered this piece as a set piece for a middle school play and it wouldn't stand up and be secure enough to use it. If you are putting it against a wall for a photo it might work but for a set piece with actors moving all over I would not recommend it at all.
I found the cardboard to be the same thickness as an Amazon box. I should have done more research into their reviews. I sent owner photos and let them know how disappointed I was in the quality of the cardboard. Nothing was done.