Sound Studio Audio Sound Effect Triggering Device
Sound Studio Audio Sound Effect Triggering Device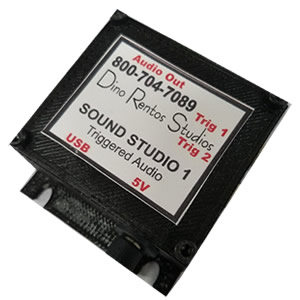 Sound Studio Audio Trigger Device
Perfect Audio Sound Effect triggered device to add audio effects to your props, displays and Halloween displays !
Sound Studio comes with 2MB of internal memory storage, inputs for 2 trigger events, USB port and power supply. Sound Studio requires you to plug in an amplified speaker. To load Sound Studio with your sound effects connect it to your PC (Do Not connect power supply). It will show up like a memory stick, just drag and drop your files to the Sound Studio.
Triggers are set up as Normally Open, to trigger the input requires a Closed Circuit
Background & Forground Effects:
Upgrade Sound Studio to a Background and Foreground Effect Device. This allows you to play a music/Sound effect. When you press the button it will stop the repeating background sounds and play your triggered sound file. When done it will return to the background sound file. See Background/Foreground Button Upgrade for Sound Studio
Sound Studio allows you to trigger your audio in the following ways:
* Triggered - Press to start a specific sound file
* Random - A Trigger can play a random file sound effect (up to 10 sounds files)
* Sequential - Play sound file in sequence
* Momentary - Play sound as long as buttom is held
Call for more information
Customer feedback
Reviews
There have been no reviews for this product.

Select By Theme

Popular

Categories

Authentication