Twister Shape and Lathe Cutter
Twister Shape and Lathe Cutter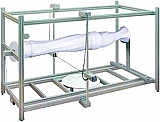 Twister Shape and Lathe Cutter
This CNC machine features:
5-Year Warranty
Heavy-Duty, Extruded Aluminum Construction
Micro-Turbine Fans Control External Wire Temperature
Automatic Wire Tensioner
Comes with Lathe and Turntable
Remote Control
MegaPlot Software is Available in 11 Languages: English, Spanish, Chinese, French, German, Hungarian, Italian, Polish, Slovakian, Romanian and Russian.
3D Cutting From 3DRaw Models Using Your 3D Software (Rhino 3D, etc.)
Ball-Bearing Drive Track System Ensures Smooth, Quiet Operation
Heavy-Duty Stepper Motors Independently Drive X and Y Axis
Comes Complete with Controller Driver
Accepts Files from PC and Mac in HPGL (.plt) and CAD (.dxf) Format
Independent Axis Option Available
Commercial Series
Will Cut 8' Tapered, Fluted Columns
Available in Single- and Double-Wire
Independent Axis Option Available
Customer feedback
Reviews
There have been no reviews for this product.

Select By Theme

Popular

Categories

Bestsellers

Authentication