10% Discount on ALL Halloween Cardboard Cutout Standups & Party Supplies!!!
Custom Foam Letters
Small to Big Foam Prop Letters
Dino Rentos Studios can manufacture custom foam letter props, exactly to your size and depth requirements.
---
Painted foam:
Painted foam letters are the least expensive. However, they are more fragile. These letters are great if no one is touching them or for temporary use.
---
Plastic Coated:
We can take our CNC computer cut foam letters and overspray a tough protective plastic coating on them. This process makes the foam letters extreamly durable and weather resistant.
---
Your letters can be made any height and thickness and even your own font !
We finish off the Big foam letters by painting them with the color of your choice.
Big Foam letters ! Perfect for your Tradeshow booth, Event, Visual Marketing, Reail Display or Party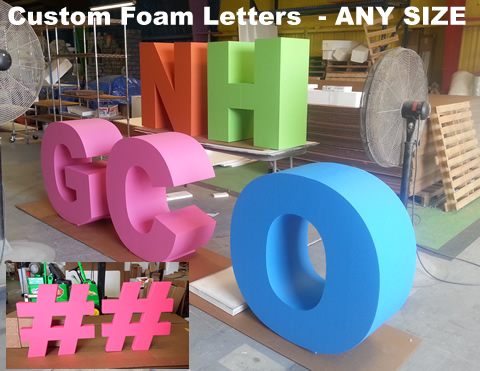 Select By Theme

Popular

Categories

Bestsellers

Authentication

News
02-11-2014
Dino Rentos Studios on Travel Channels'
Baggage Battles TV show.
Look for Dino Rentos Studios this spring (2014) on the Travel Channels' Baggage Battles TV show.
Sally and Lawerence visit Dino Rentos Studios for some advice on props that they win on this episode. We can't tell you want they won. Youll Have to wait for the airing to see.
-Dino Rentos
All news
Subscribe