We we be closed Thursday 11/23 and Friday 11/24 to celebrate Thanksgiving with our families. Regular hours resume Monday, 11/27.
Medallions 3D Custom Made
Medallions 3D Custom Made
Custom Made 3D Foam Medallions
Made to you logo and designs, Foam 3D Medaillions are light weight compared to other materials and can be painted as Bronze or other bright colors.
Call us to have your Foam 3D Medallion custom made for you.
---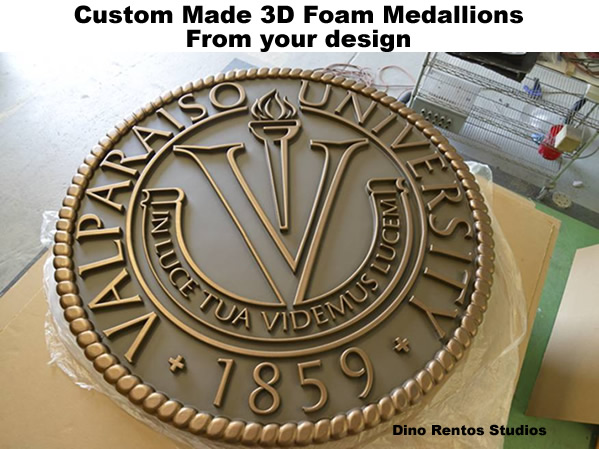 This custom made 3D foam Medallion is 8 foot in Diameter.
With wood backing so hardware could be applied to the back for installation
There are no available products under this category.

Select By Theme

Popular

Categories

Authentication

News
02-11-2014
Dino Rentos Studios on Travel Channels'
Baggage Battles TV show.
Look for Dino Rentos Studios this spring (2014) on the Travel Channels' Baggage Battles TV show.
Sally and Lawerence visit Dino Rentos Studios for some advice on props that they win on this episode. We can't tell you want they won. Youll Have to wait for the airing to see.
-Dino Rentos
All news
Subscribe