We we be closed Thursday 11/23 and Friday 11/24 to celebrate Thanksgiving with our families. Regular hours resume Monday, 11/27. All Online orders will be processed on Monday.
Customer Spotlight Feature
Customer Spotlight Feature

November's Customer Spotlight Feature is
Marcus Dresdner of Opti-Pak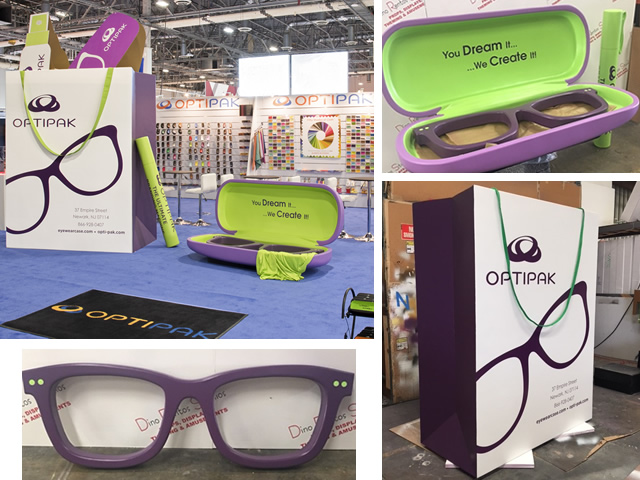 Marcus Dresdner of Opti-Pak requested these awesome oversized replicas of their products. Dino Rentos Studios manufactured an 8 FT Tall Gift Bag, a 6 FT Wide Eyeglass Case with glasses, and a 5 FT Tall Lens Cleaner Pen. Samples were mailed in to be laser scanned. Each prop was CNC carved in EPS Foam, Hard Coated in Poly Urea Plastic, and Painted to Specs. Vinyl graphics were added to add the perfect branding to the props. These items were displayed at the International Vision Expo in Las Vegas, NV.
Learn more about their products and how to purchase at eyewearcase.com
"These beautiful props made the perfect statement for our first time
booth at the Vision Expo in Vegas, will do it again anytime"
~Marcus Dresdner
---
October's Customer Spotlight Feature is
Ted McGreer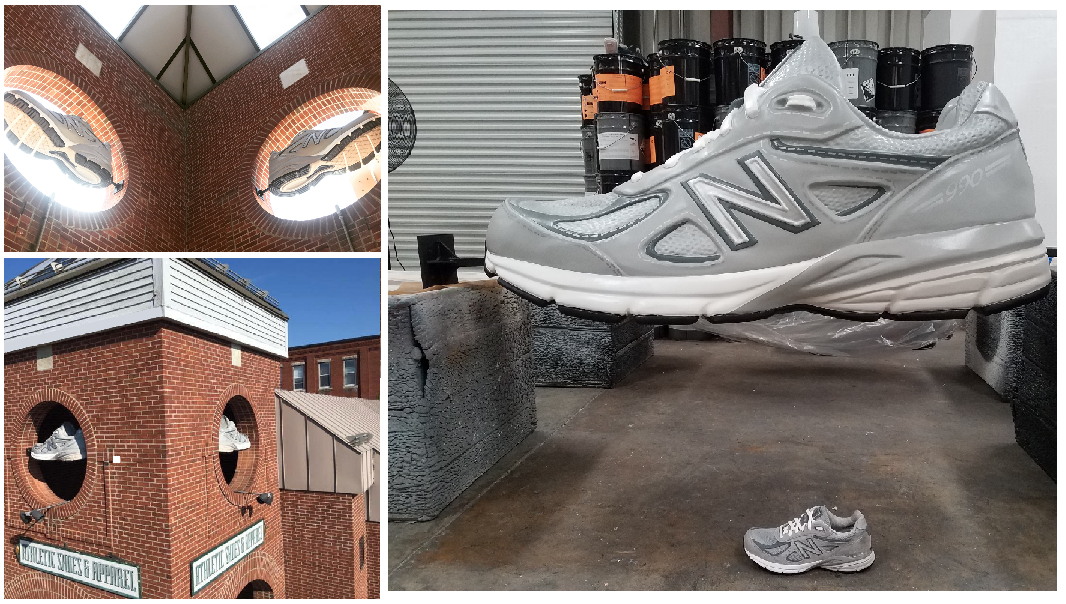 Ted McGreer, owner of Ted's Shoe & Sports, an Athletic Specialty Footwear and Apparel Store in Keene, NH requested Dino Rentos Studios to enlarge sneakers for their retail store. The sneakers were manufactured at 5 FT Wide. The units were hard coated, steel reinforced, painted, and sprayed in an automotive matte finish. The foam sneakers were installed outdoors on their building.
Visit Tedsports.com to learn more and tell them Dino Rentos Studios sent you!

Select By Theme

Popular

Categories

Authentication

News
02-11-2014
Dino Rentos Studios on Travel Channels'
Baggage Battles TV show.
Look for Dino Rentos Studios this spring (2014) on the Travel Channels' Baggage Battles TV show.
Sally and Lawerence visit Dino Rentos Studios for some advice on props that they win on this episode. We can't tell you want they won. Youll Have to wait for the airing to see.
-Dino Rentos
All news
Subscribe