Scenic Foam Props & Sculptures Gallery
Scenic Foam Props & Sculptures Gallery
Pro Services for Custom Made Scenic Foam Sculptures & Props !


---

Scupture Enlargements from a physical or digital model.
Computer CNC Milled
---
This 3' Tall x 8' Wide Custom Logo and 7' Tall Alligator Photo Prop was 3D carved in EPS Foam, Steel Reinforced, Hardcoated in Poly Urea Plastic, and Painted to be displayed outdoors for Wild Willy's Boat Tours.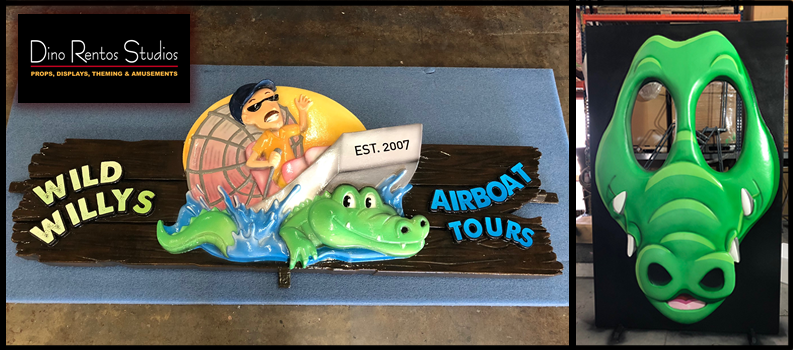 ---
Dino Rentos Studios manufactured these oversized Gift Bag, Sunglasses Case, and Lens Cleanser Pen for OptiPak to use at a Tradeshow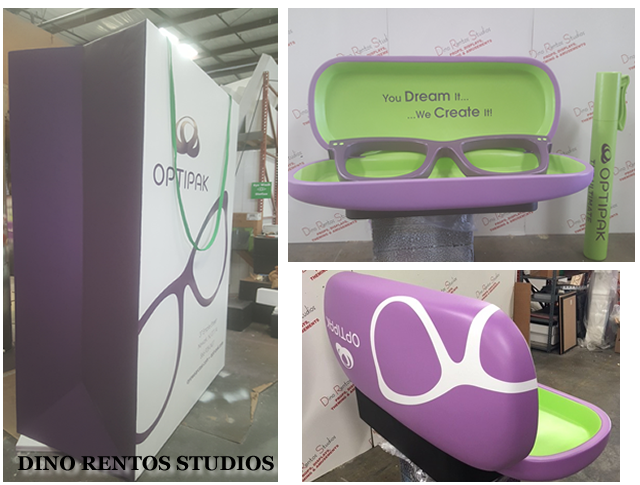 ---
Our studio mass produced these Custom Foam Boot Retail Displays for Garrison Brothers Distillery.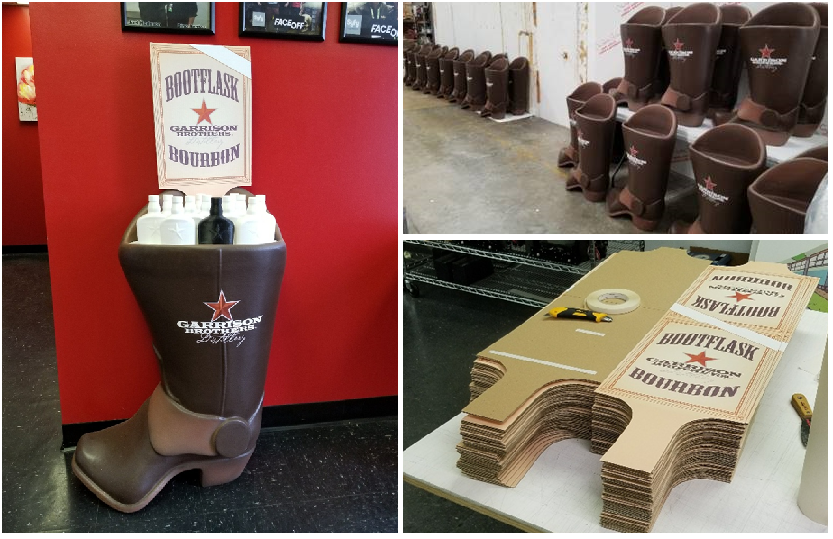 ---
These 7 FT Tall Custom Foam Displays were manufactured for Foxwoods Resort Casino in CT.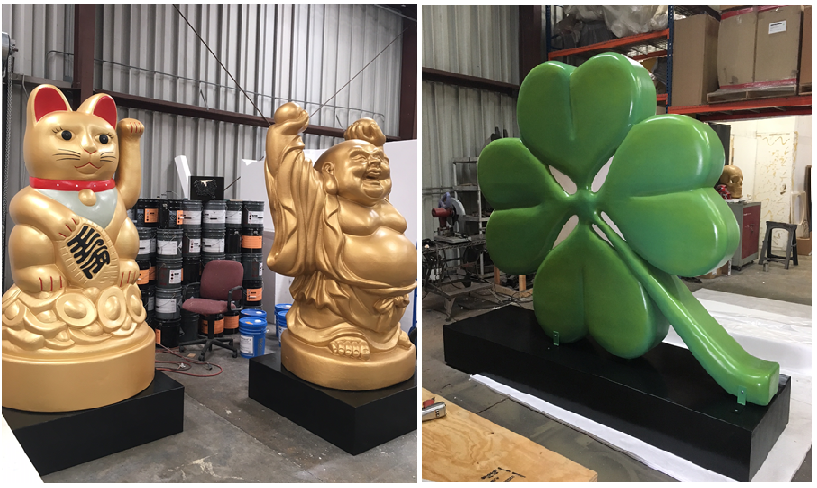 ---
7 FT Tall Cheeseburger manufactured for an exterior sign display. The unit was hardcoated, painted, glossed, and embedded with an internal steel structure for durability.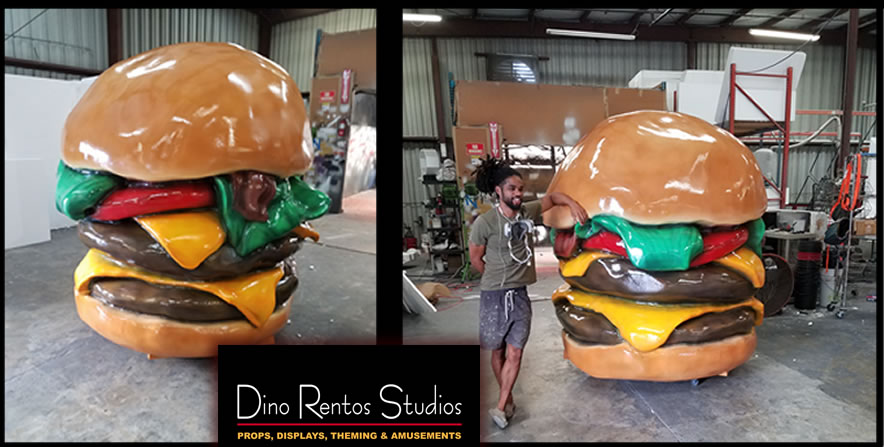 ---
Bee Bald, LLC contacted our studio to manufacture this 8 FT Tall Foam Bald Head Relief Prop and 4 & 5 FT Tall Bottle Props for a tradeshow.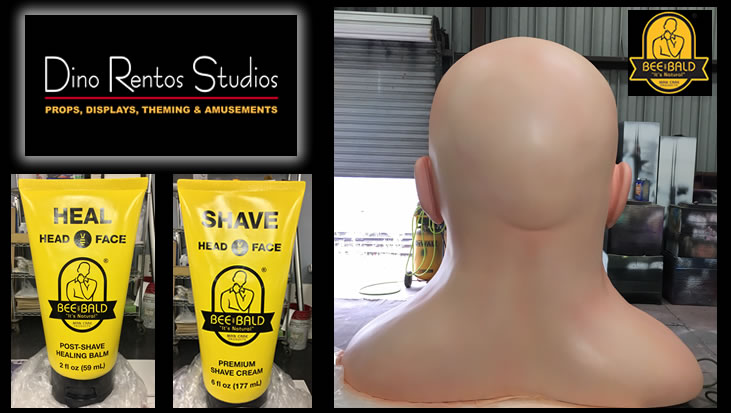 ---
Client contacted Dino Rentos Studios to manufacture these 5 FT Tall Gold Trophy Replicas.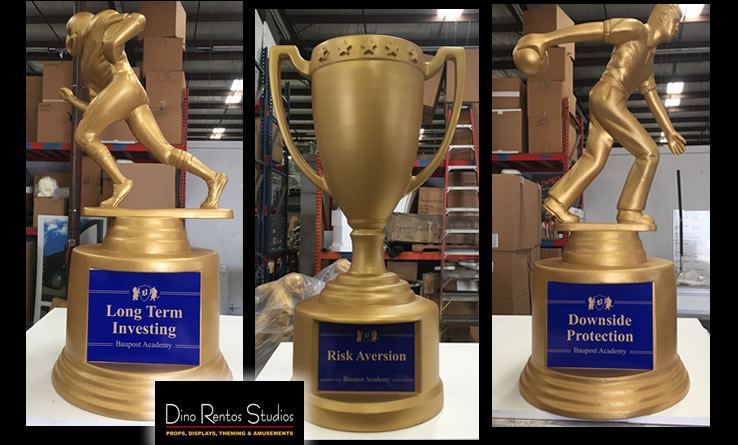 ---
6 FT Tall Logo manufactured for Ritz Safety in Tampa, Fl.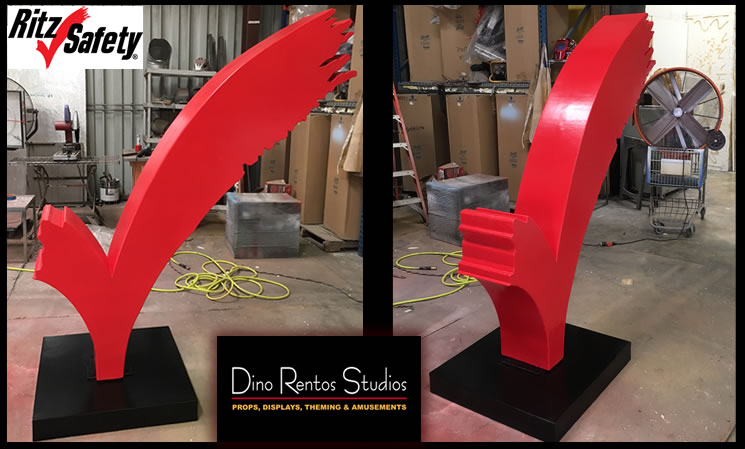 ---
5 FT Wide Foam Sneakers manufactued for Ted's Shoe & Sports in Keene, NH.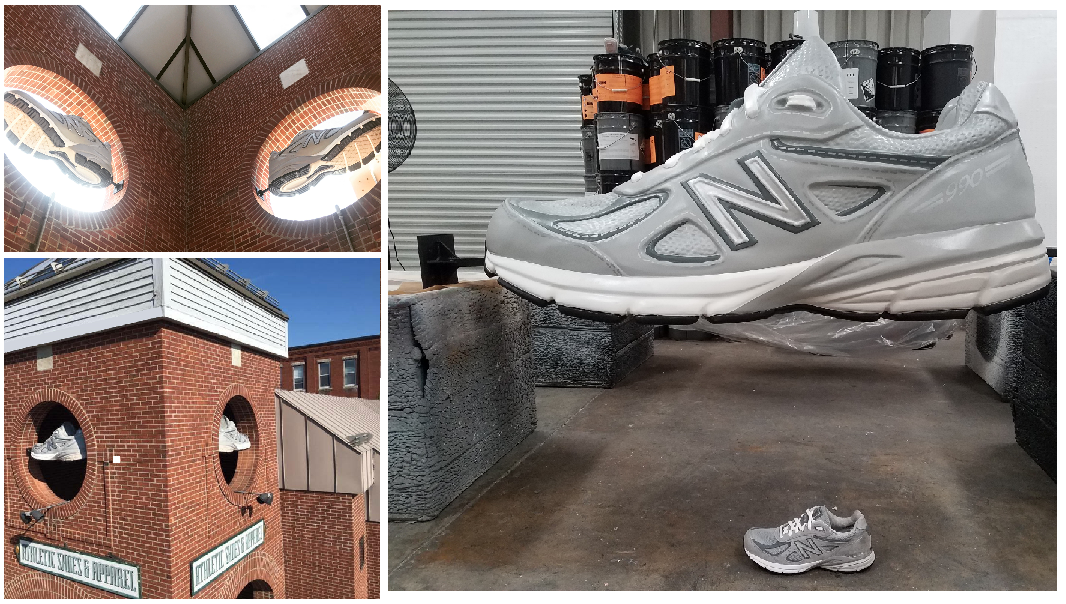 ---
10 Ft Meat Cleaver manufactured for Prime Serious Steak in Sarasota, Fl.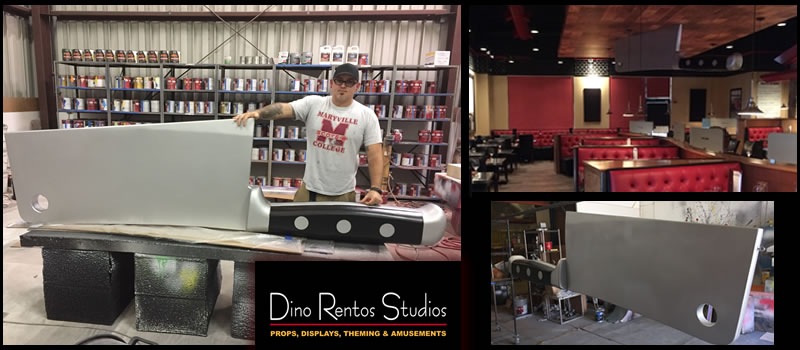 ---
6 FT Tall Lighter manufactured for Arrow Lighter in CA.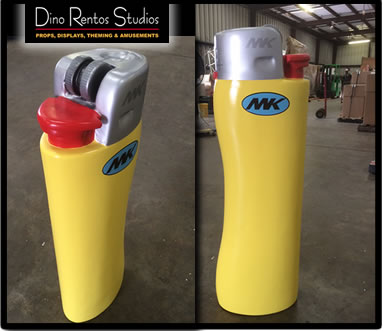 ---
Giant Scenic Sculpture Prop Bottles.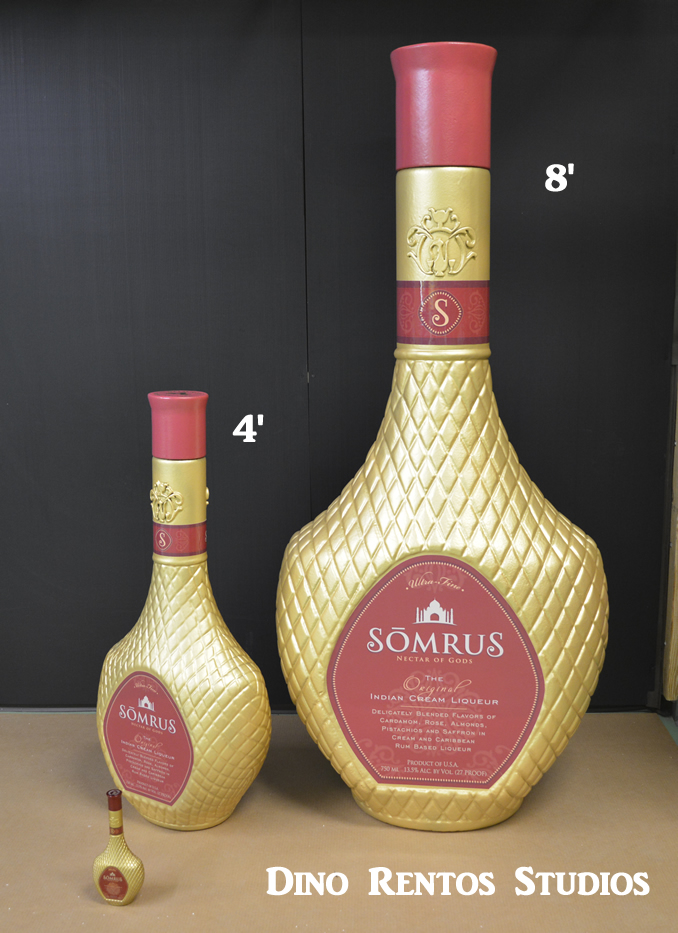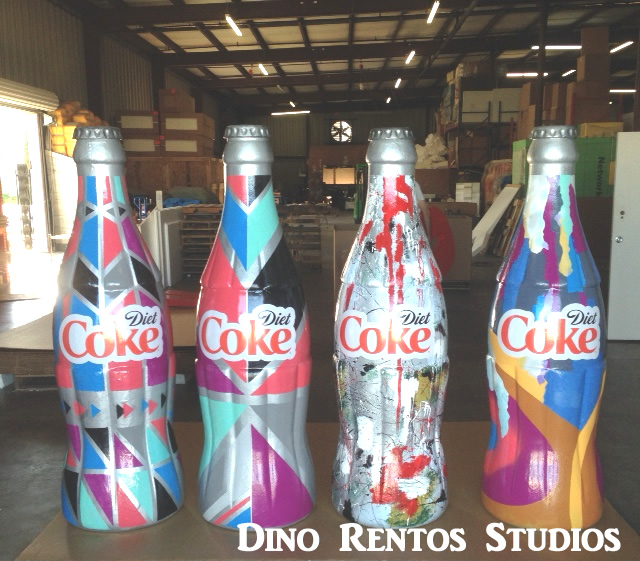 ---
Giant books for corporate events, weddings, scenic displays. Custom Made with your graphics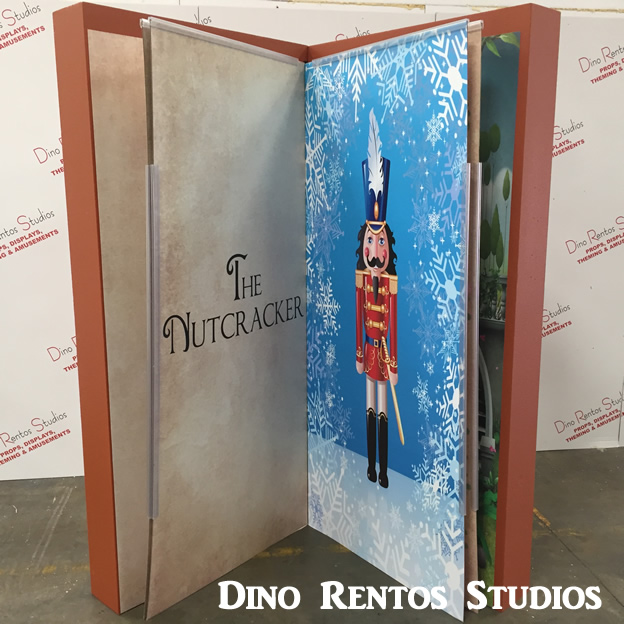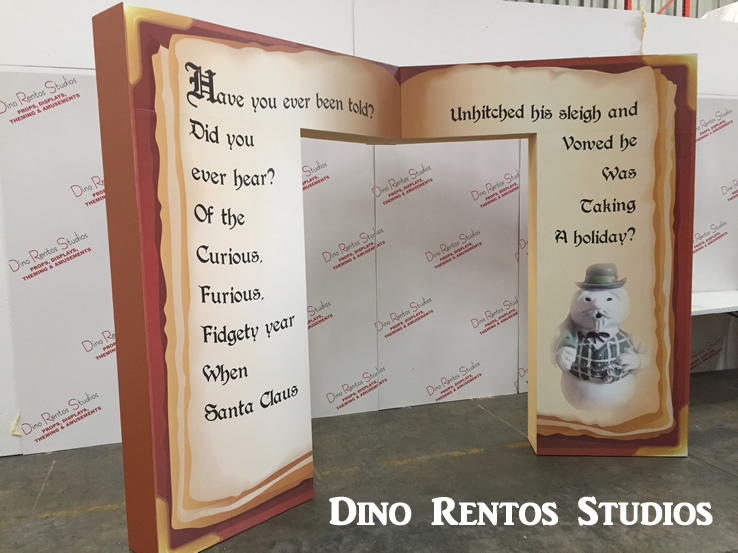 ---
Worlds Largest Bobblehead
Made from EPS foam and fire rated plastic coated for a Trade Show
See Book of world records at:
world records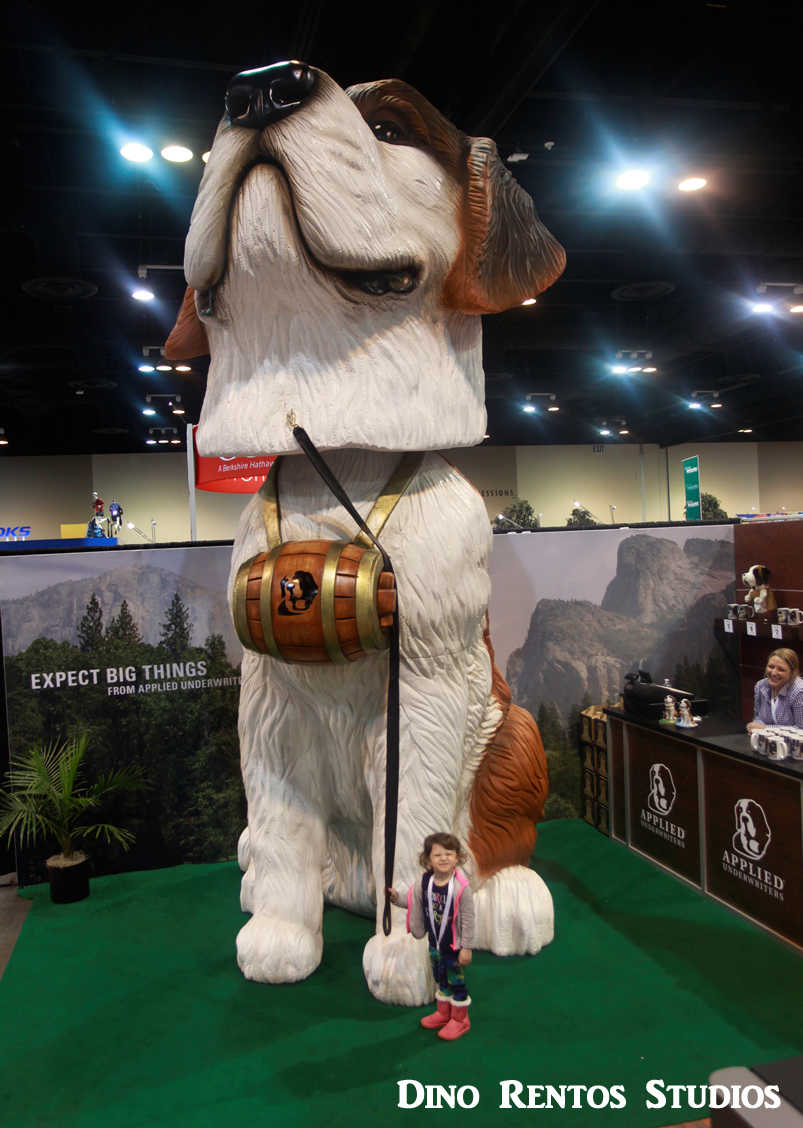 ---
Toy manufacturer had Dino Rentos Studios enlarge their building block toys for a trade show. Call us to make giant sculptures of your toys or products for displays and trade shows.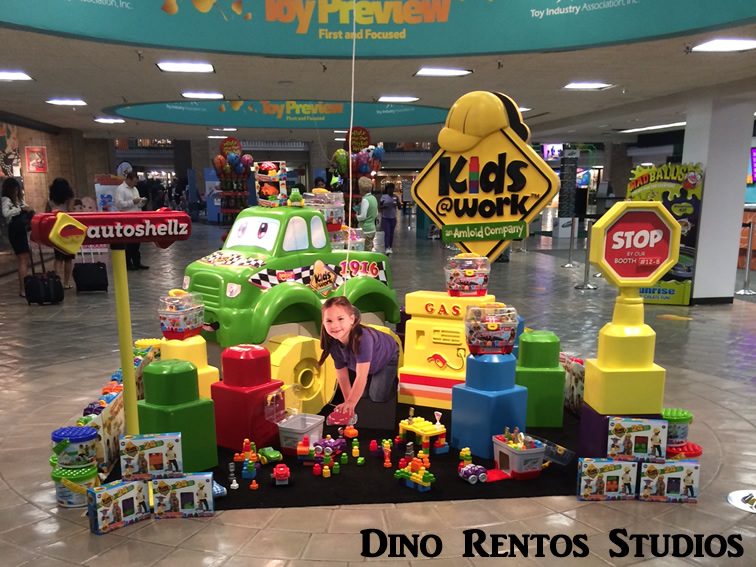 ---
3 Foot - 3D Printed Golden Gate Bridge Centerpieces for Event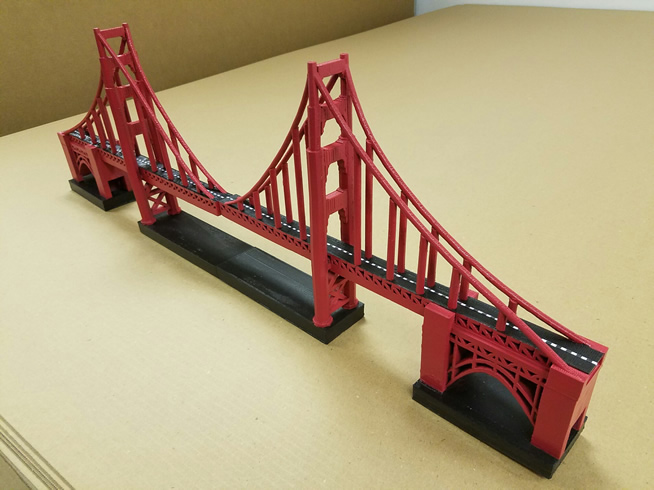 ---
Giant Baseball Glove Seat Sculpture Prop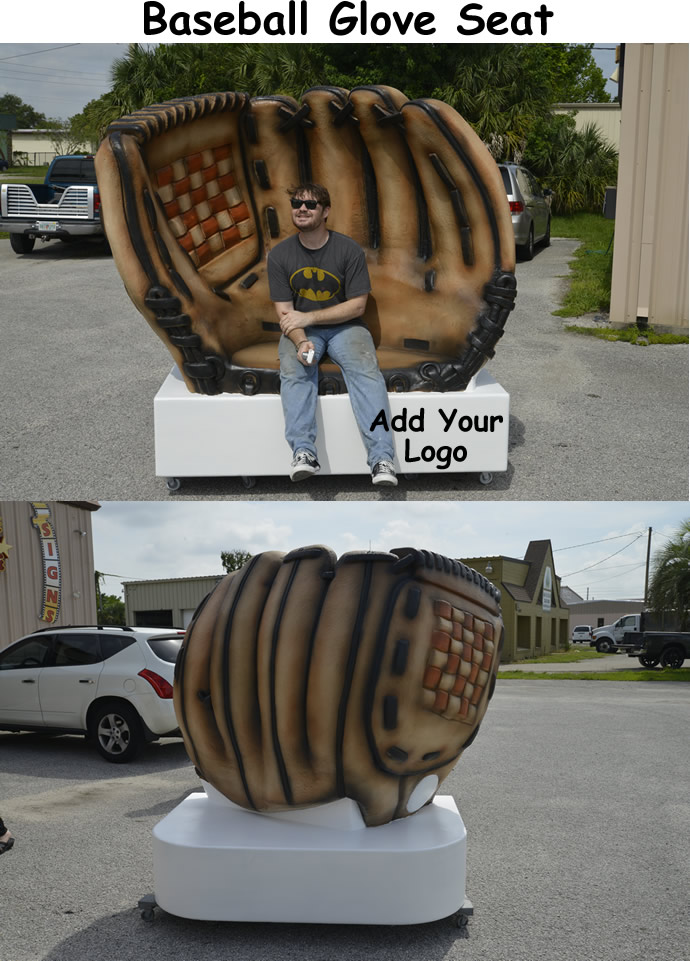 ---
Microsoft XBox - Halo 4 - Master Chief Real life Sculpture / Statue Foam Prop. Made for Microsoft - New York City

---
Real Life Size Angry Birds Set was Custom Made for KNEX brand Toys and the Philadelphia Eagles.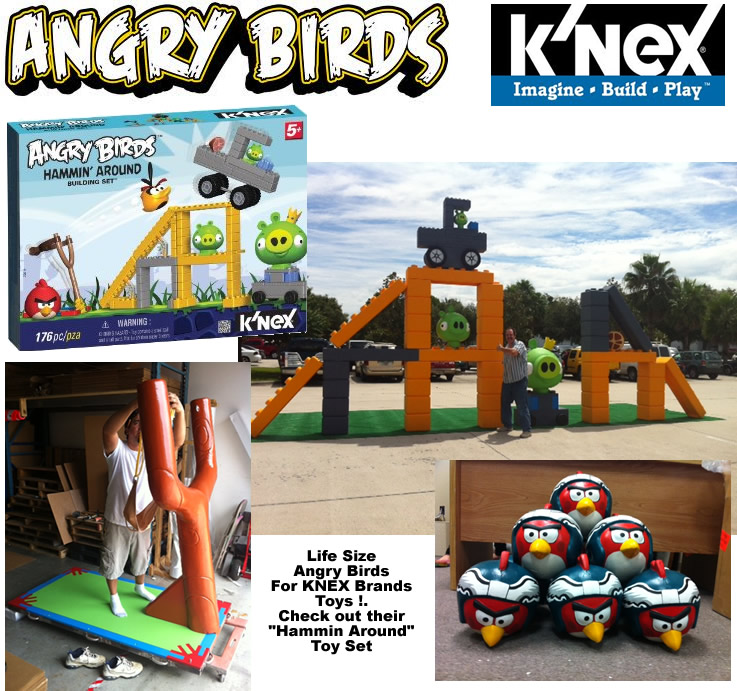 ---
Custom Foam Prop Sculptures were Made for Comic Con 2012.
American Dad, Simpson's, Cleveland Show, Family Guy, Bob's Burgers, Sunny in Philadelphia, and Wilfred. The Fox cartoons were placed on the Pedicabs.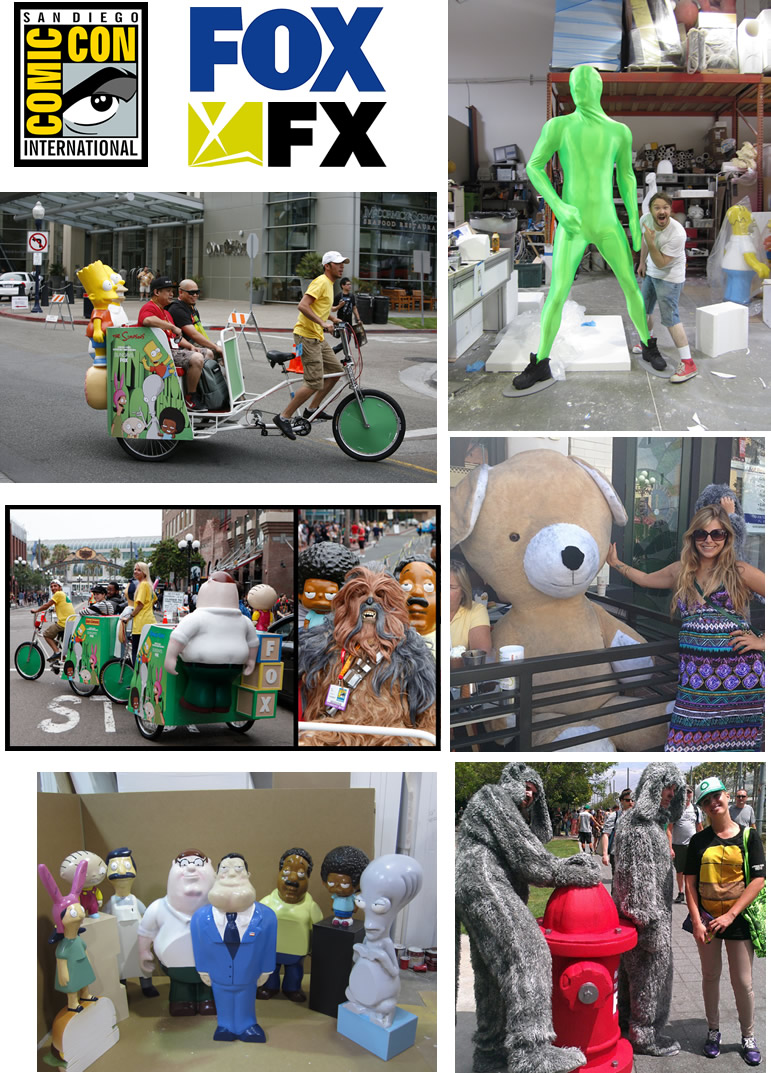 ---
Custom Foam Sculptures Made for Tribes Ascend Video Game. To Display at Trade Shows.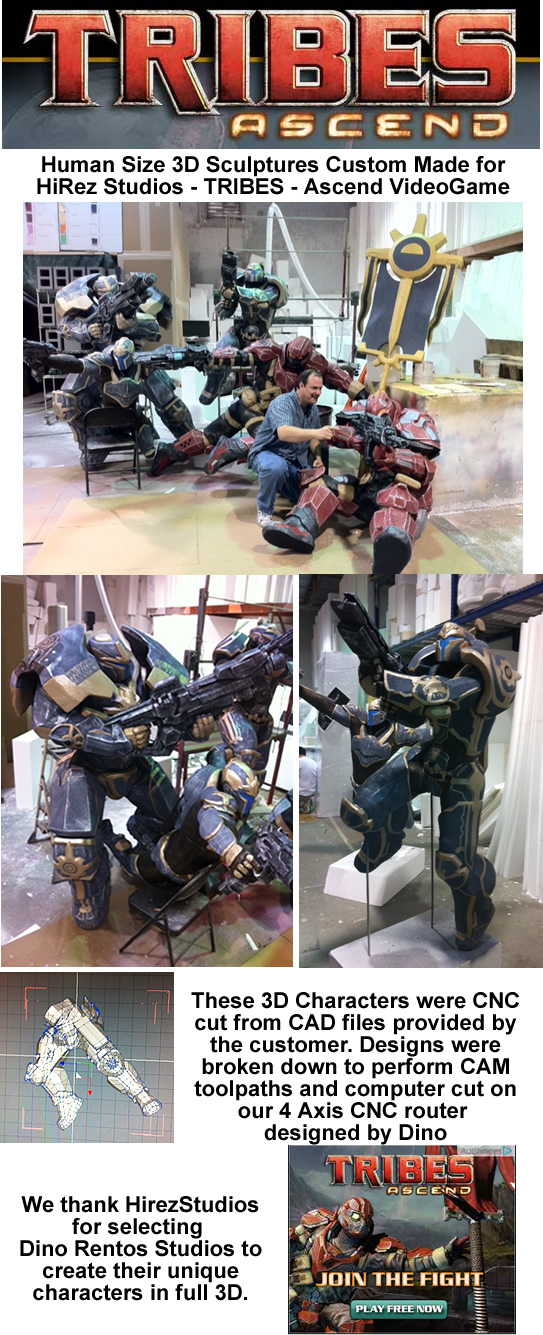 ---
Custom Retail Display Foam Props For SkullCandy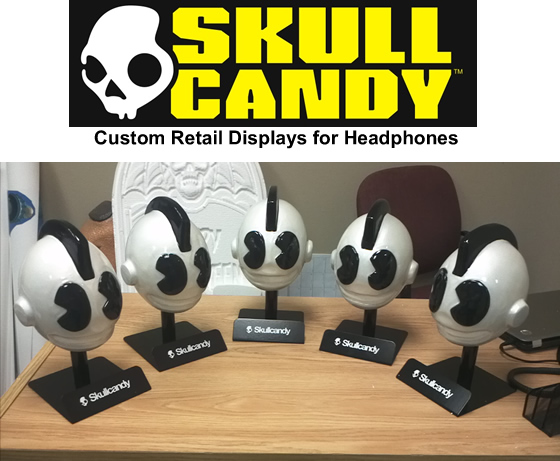 ---

Custom Made Trade Show Booths sculpted to your designs or need. Custom Trade Show Displays, Props or a complete Foam Trade Show Booth.
Call Us for Details.
---

Custom Foam sculpture Props for Stage and Set Design.
Spruce up your corporate stage event with Custom Made Display and Props
---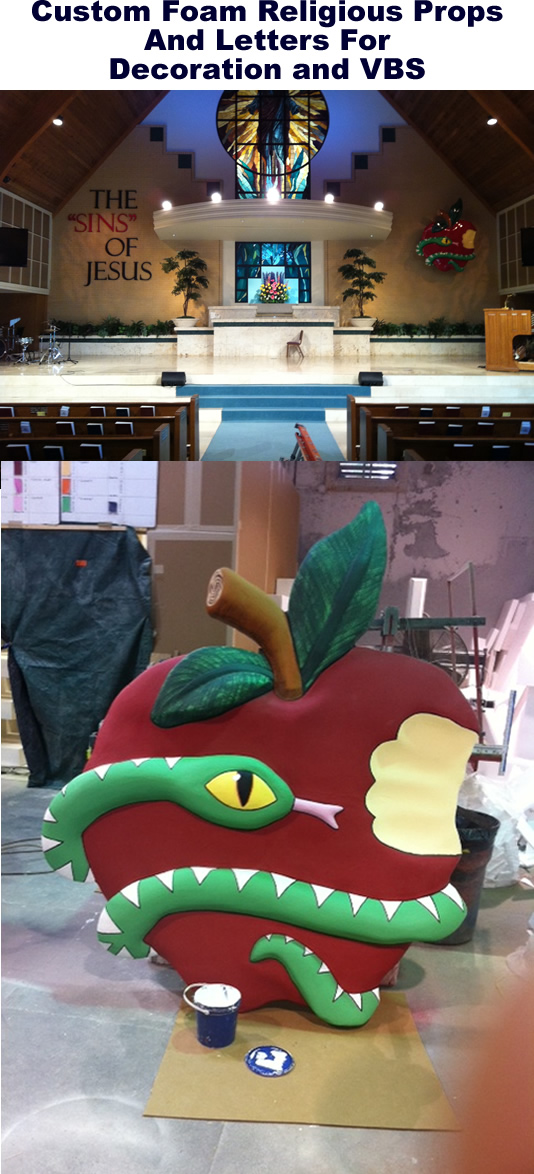 Custom Foam Religious Props
And Letters For
Decoration and VBS
---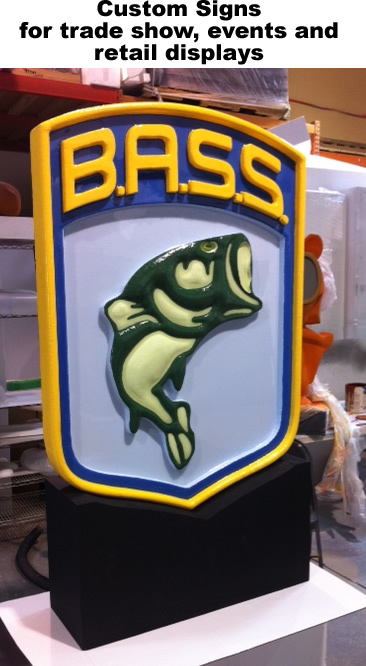 Custom Lightweight Foam Signs for retail, trade shows
Events and buildings
---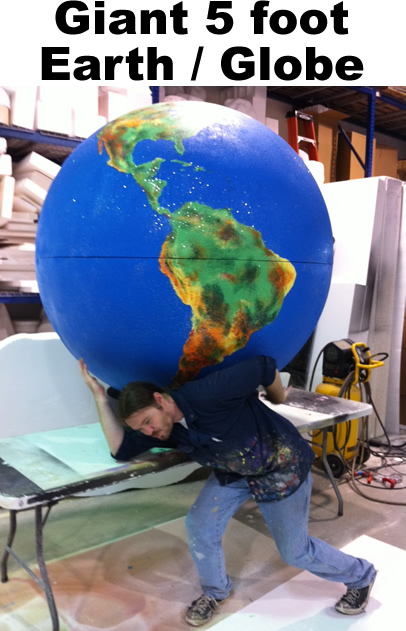 Giant 5 foot Earth Globe - Planet
Thei was made for a stage event. Lightweight and easily setup
Custom Foam sculpture Planet props made to your specs
---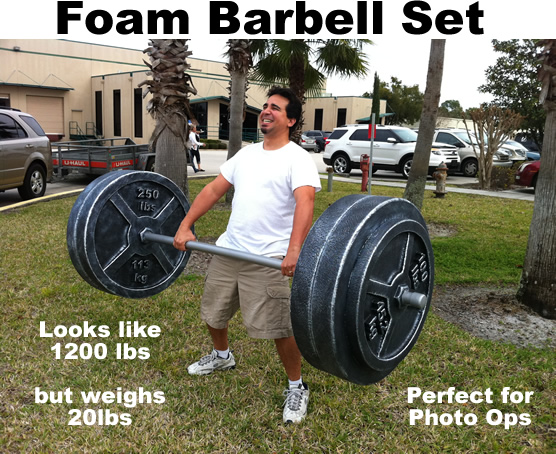 This fake barbell foam sculpture prop looks like 1200 pounds but is only 25 pounds. Perfect for photo ops and promotional events
---


Custom Sculpture Enlargement of your product or items turn your product into full size foam sculpture props.
---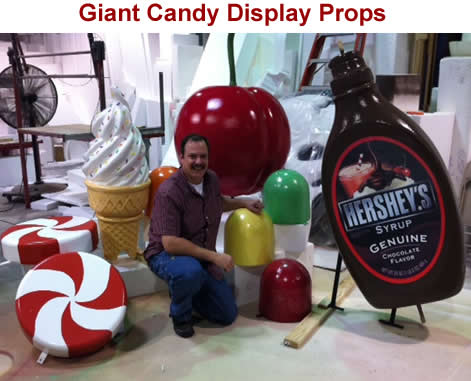 Custom Made Foam Candy sculpture props for Displays / Events / Trade Shows.
Made quickly by our Prop Makers / Builders..
---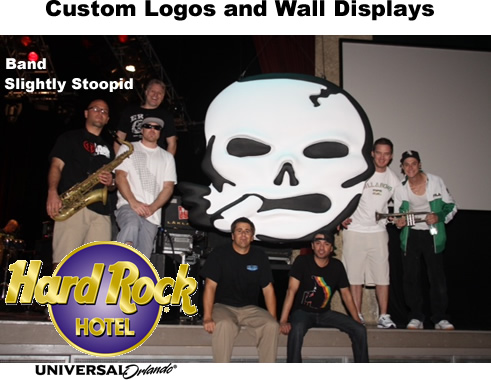 This Big Foam prop skull was made for the HardRock, Orlando
It represented the logo for the band: Slightly Stoopid.
This Giant 3D Foam logo was used as the drop ball for New Years eve 2012
---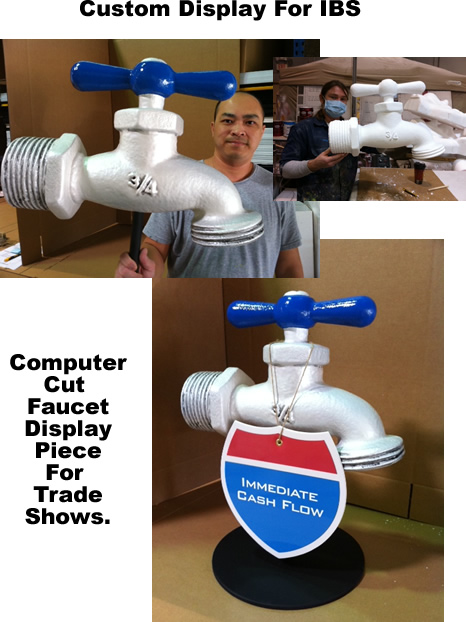 This Custom Trade Show Display was Made for IBS
This custom Sculpture Prop is made of foam then plastic coated.
Have our Prop Designers create you custom Props Big and Large to Gigantic
---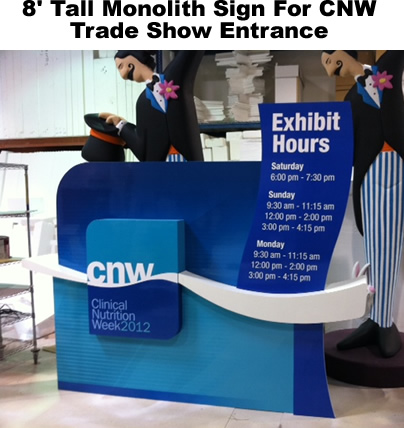 This Foam monolith sign was created for the CNW Show Event.
Have your Trade Show or retail signs and displays made by our prop designers / Prop House
---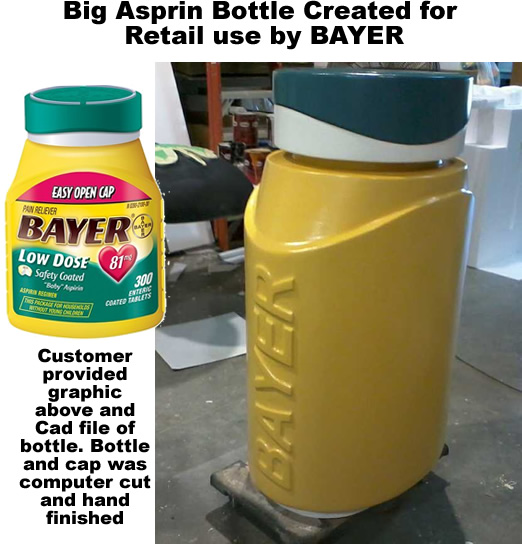 Big Foam Asprin bottle created for retail displays
---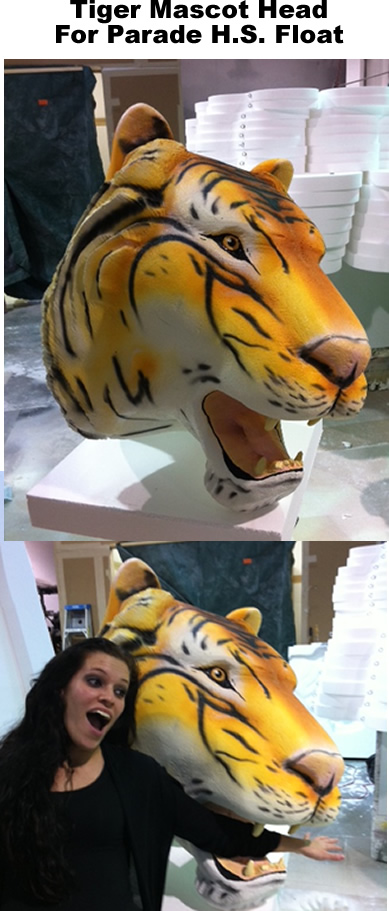 Big foam tiger head sculpture prop for parade float
This paint foam animal head foam prop can be made for you !
---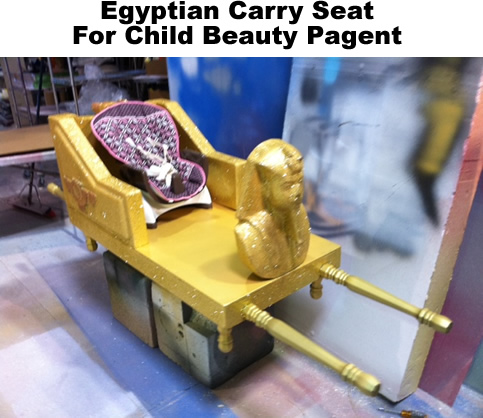 This egyptian seat prop was created for a children beauty pagent
---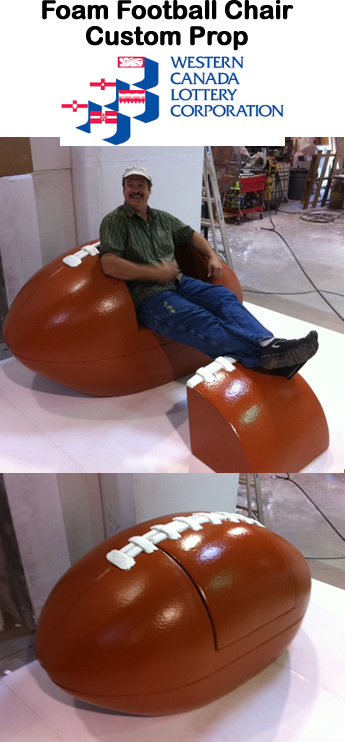 Big Footbal Foam sculpture Chair Prop
Made for the Western Canada Lottery Corporation
---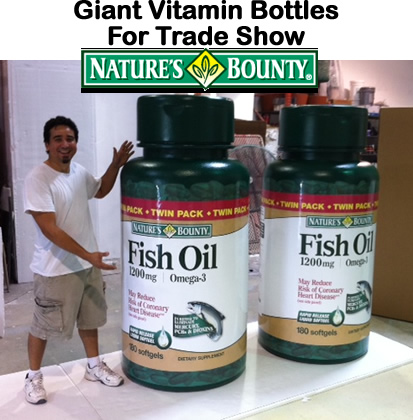 Giant Vitamin Bottles for Trade Shows and Events
Made for Natures Bounty
---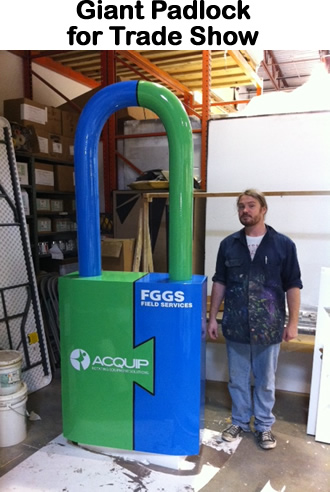 Giant Padlock for Trade Show
Made for Acquip
---


Retail Foam Prop Displays for
BERINGER Wines
---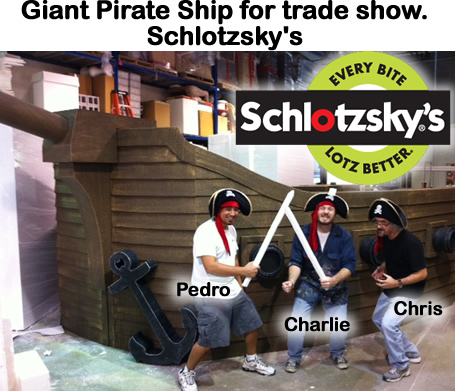 Giant Foam Pirate Ship Foam Prop / Display for Trade Show
Schlotzsky's
---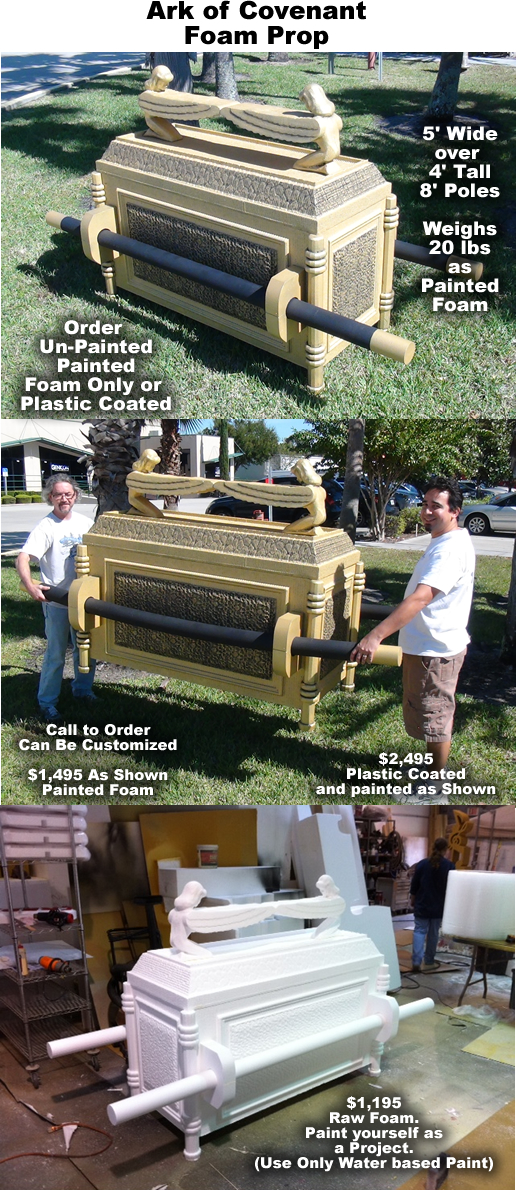 Ark of the Covenant Foam Sculpture Display Prop.
Perfect for events, Church and Temple Displays, Even Retail Displays !
---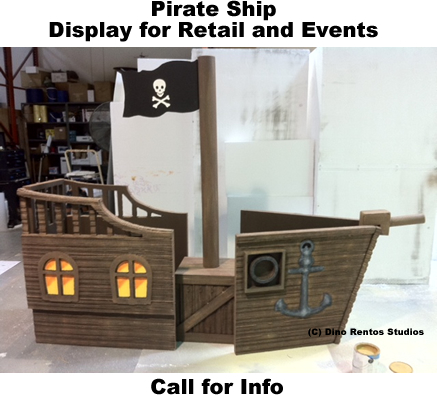 Custom Pirate Ship Foam Prop / Display for Retail, Trade Shows, Events
---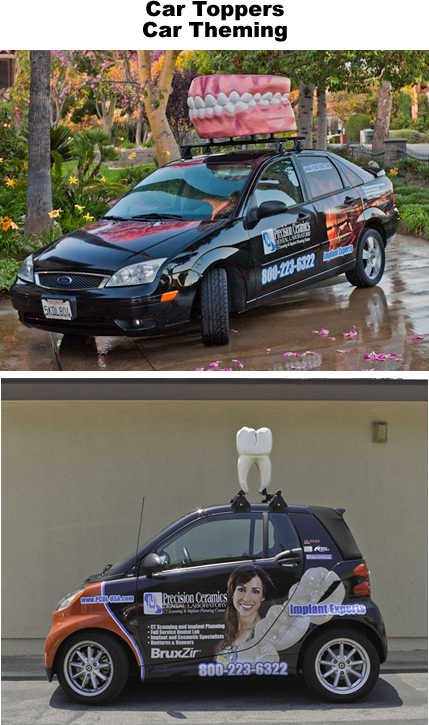 Custom Made Car Toppers
Car Themeing
Moving Props - Displays
---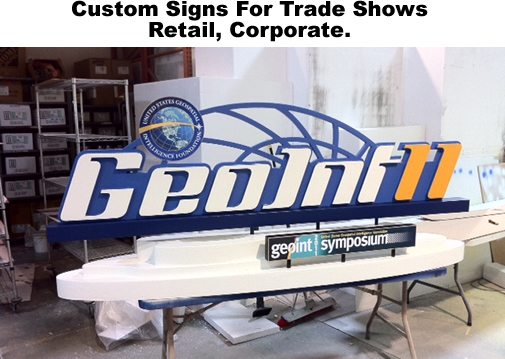 Custom Sign - Display for the Geo Int Symposium Trade Show
---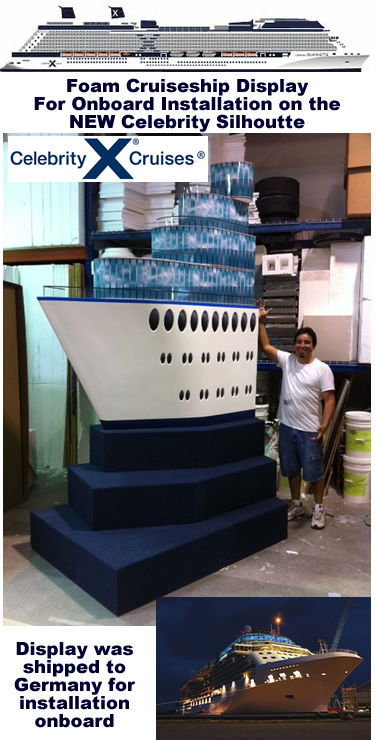 This display was installed on the Celebrity Silhoutte Crusie Ship
It was shipped to Germany for installation
---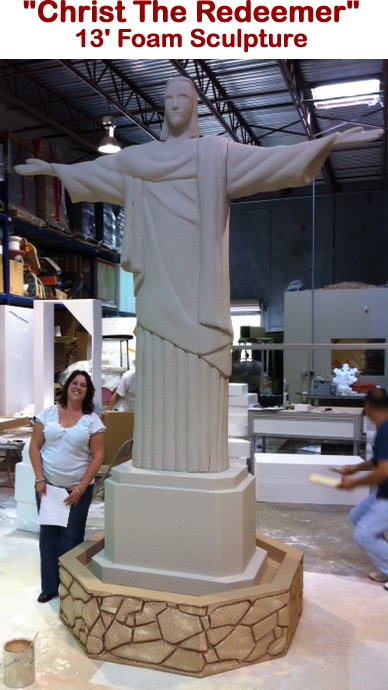 Giant "Christ The Redeemer" 3D Foam Sculpture Prop
---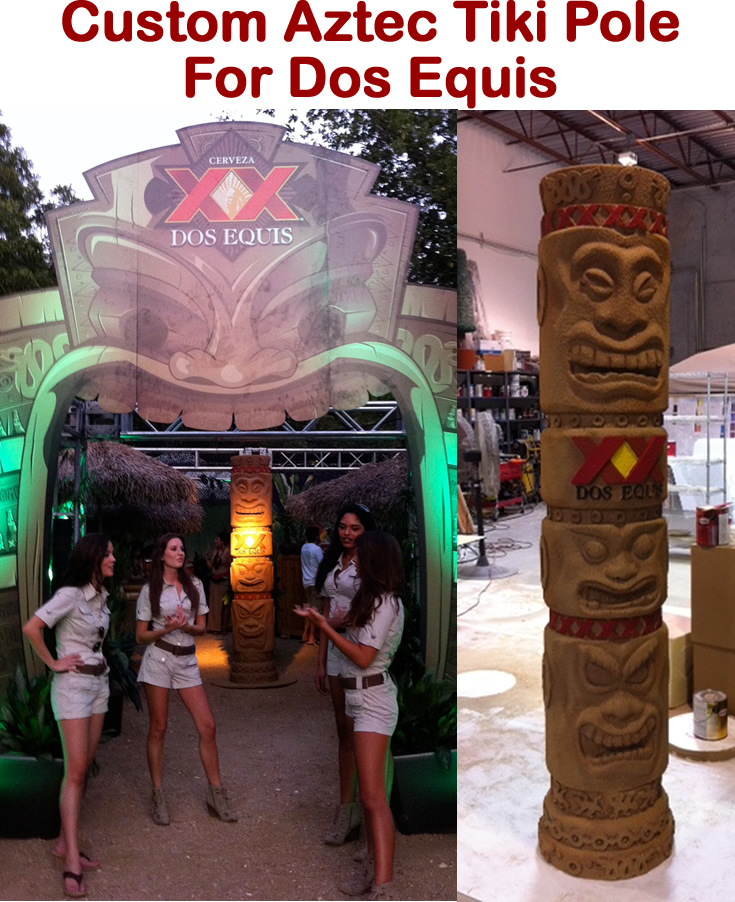 Custom Aztec Tiki Pole for Dos Equis
---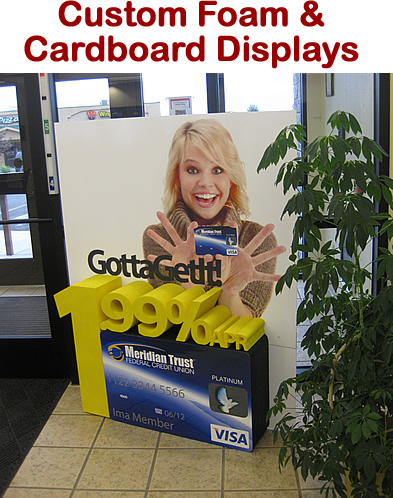 Custom Made Foam and Cardboard Retail Displays
---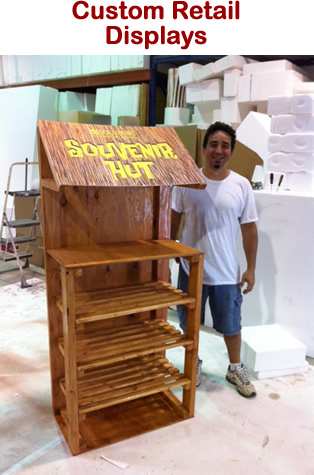 Custom Made Foam and Cardboard Retail Displays from Wood
---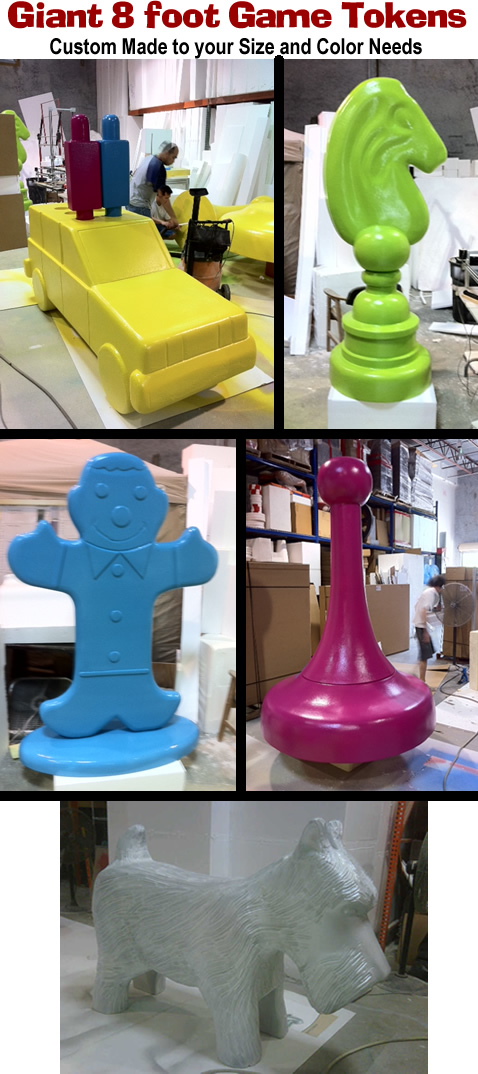 Giant Board Game Tokens. Though these are 8 foot, we can make them any size you need.
Have your Giant Foam Prop Game Token Painted any color you need.
---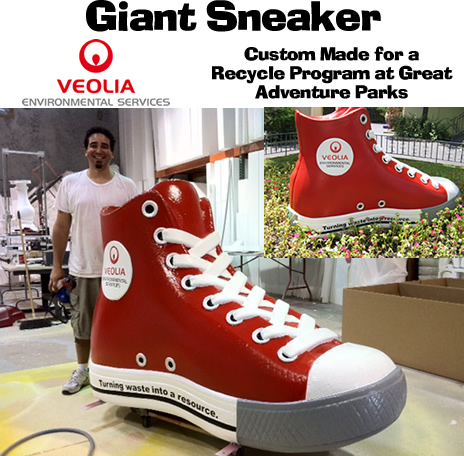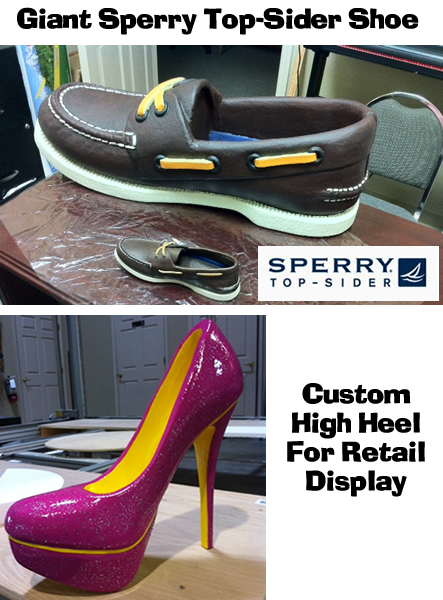 Custom Made Foam Sculpture Prop replicas of your shoes or sneakers
Giant/Big Foam Prop Sneakers and Sperry TopSider Shoes
---

Custom Made Foam Podiums
Podium Props
Made any size from your logo or art work. Available as painted foam or plastic coated foam.
This podium was made for the Michigan Woman's Conference and was 4 foot tall with plexiglass tabletop.
---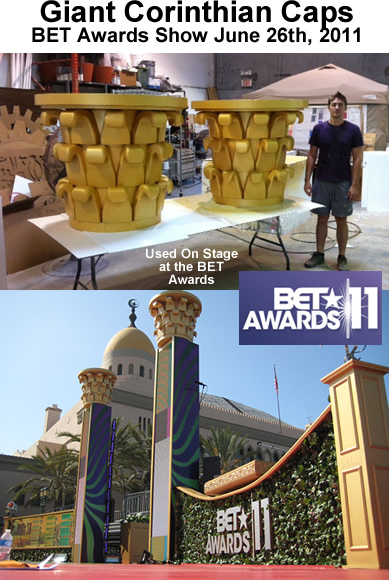 Custom Architectural Foam Shapes -
Corinthian Caps for BET 2011 awards show
---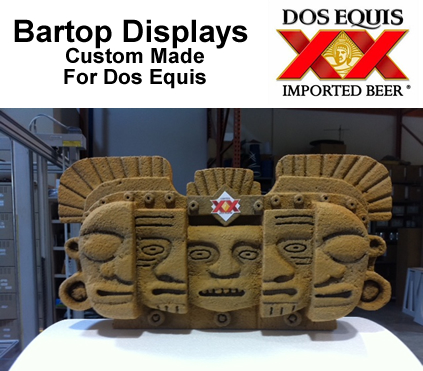 Foam bartop display sculpture prop for Dos Equis
---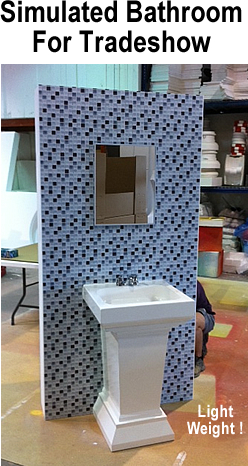 Custom Lightweight Foam Bathroom Display for Trade Show
---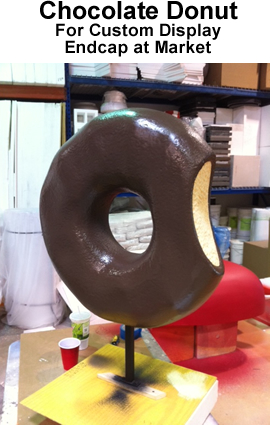 Big Foam Donut sculpture Prop for Retail Display / End Cap
---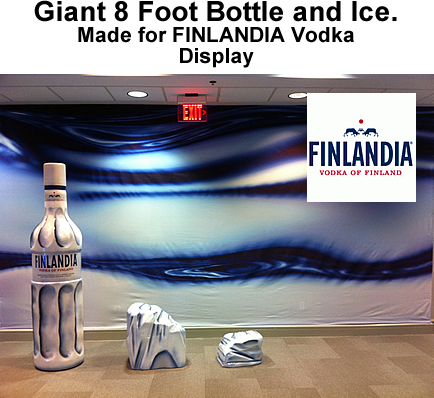 Giant Vodka Bottle Foam Prop for Finlanda Retail Display
---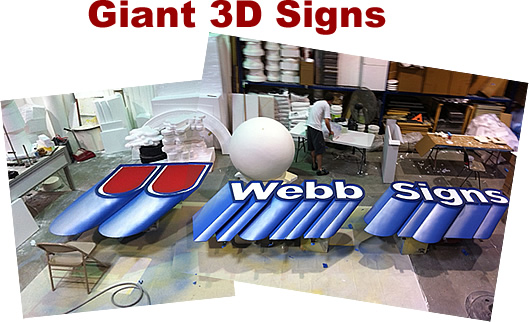 Giant / Big Foam 3D Signs and Letters
---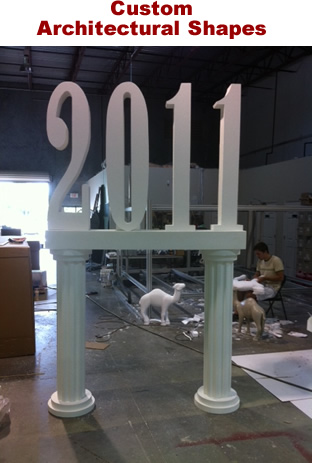 Custom Architectural Shapes Made to Order
---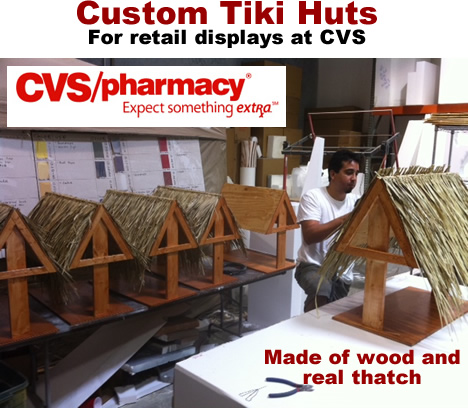 Custom Made Wood and Thatch tiki hut retail displays
Made for CVS Pharmacy
---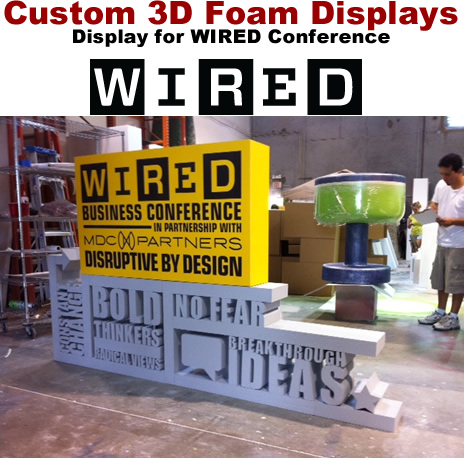 Custom Made Giant / Big Foam Letter Display for WIRED conference
---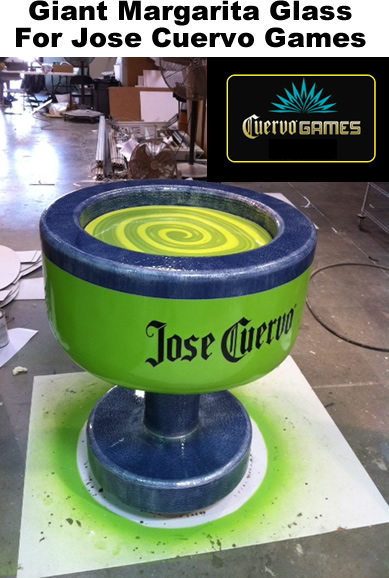 Dino Rentos Studios, The Prop Magician has created many items for the
Jose Curevo Games. From Nerf Agave Plants to Game Components
This year we manufactured the Giant Heavy Foam Margarita Glass Prop.
---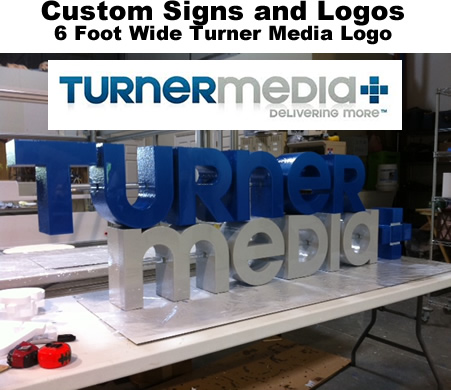 Custom Foam Prop Display Letters, Numbers and logos made to order
---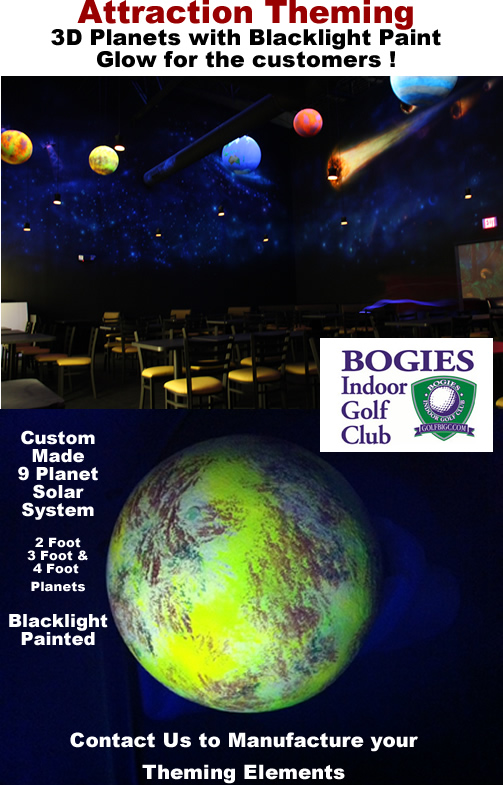 These UV Glow Planets were made to complete the theming in this resturant area.
The Foam Prop Display Planets are an example of custom theming
Dino Rentos Studios, The Prop Magician can do to help theme your Attraction.
---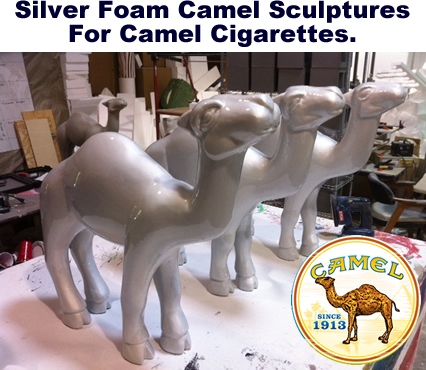 Custom Foam Sculptures.
These Glossy Silver Foam Camel Sculptures
were made for Camel Cigarettes
---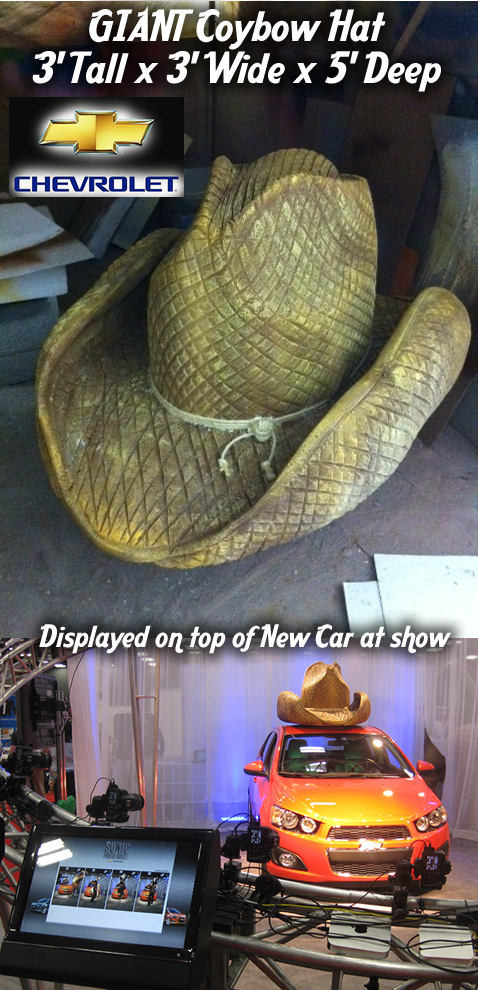 Big Cowboy hat foam sculpture prop for Chevy
New Car Rollout
---

Big Award statues Foam Sculpture Props
For Yum Brands Corporate Event
---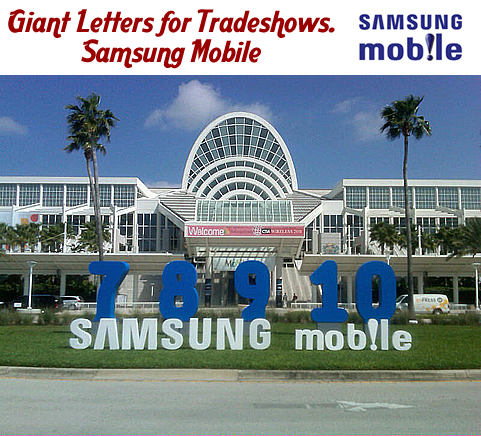 Custom Made Giant Foam Letters for Trade Shows
---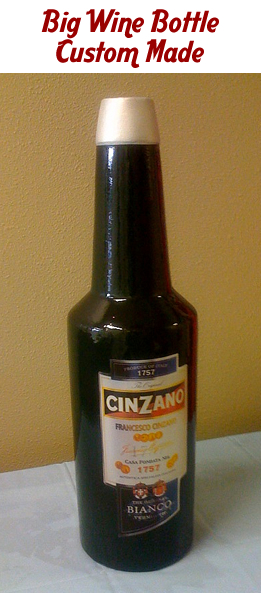 Big Custom Made Wine Bottle Foam Prop
For Display
---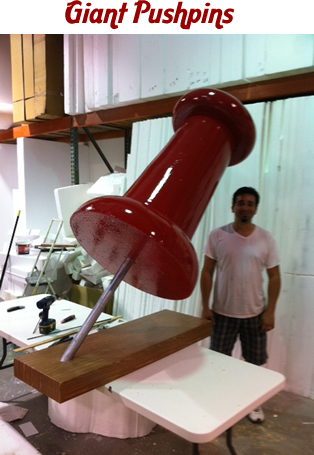 Giant Big Push Pins Foam Sculpture Props
Made for Display
---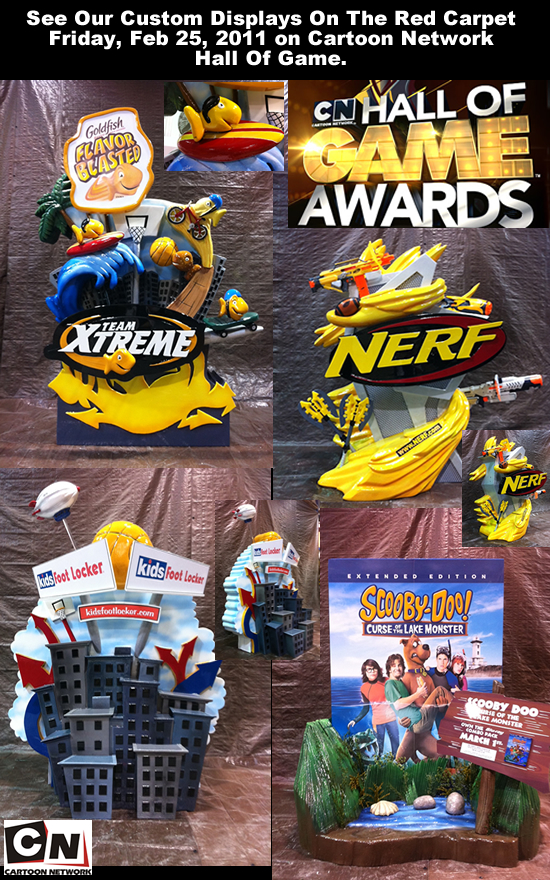 Cartoon Network - Hall of Game Awards Feb 25,2011.
See our Red carpet displays for Goldfish, NERF, Kids Footlocker and The New Scooby Do Movie . Contact us to make your Movie, TV or Retail Foam Sculpture Prop Display.
---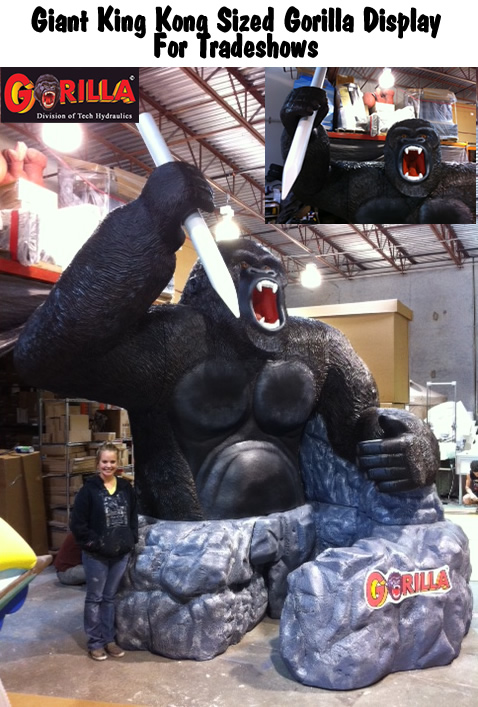 Currently in Construction is this Giant King Kong Gorilla Foam Sculpture Prop.
Custom Made for Gorilla Hammers
---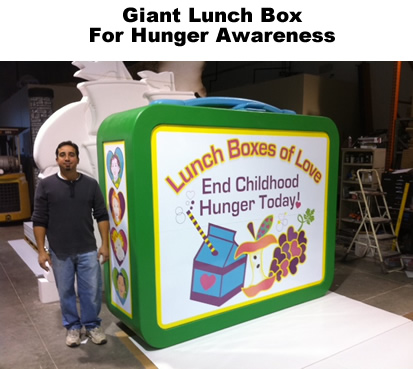 Giant Foam Lunchbox Display
---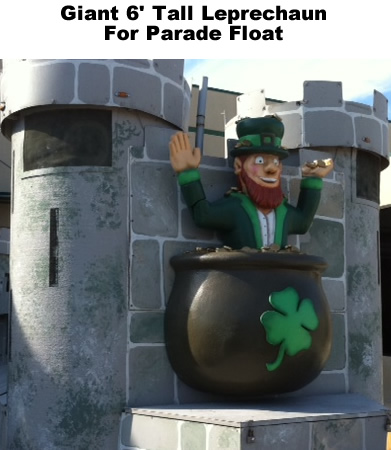 Custom Foam Props For Parade Floats
---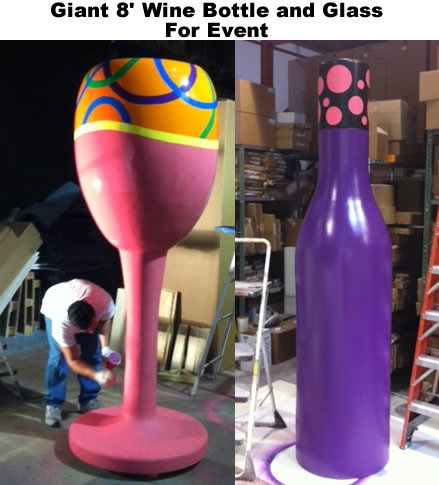 Giant 8' Wine Bottle and Wine Glass Foam Props
---

Custom Made Giant Foam Baseball Bat Sculpture Prop
---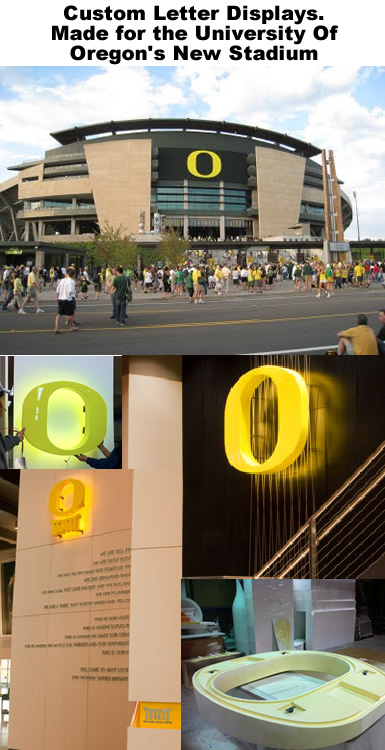 Custom Made Foam Letters For Displays.
Dino Rentos Studios Created this 3 Foot and a 6 Foot
Oregon "O" for the new University Stadium.
---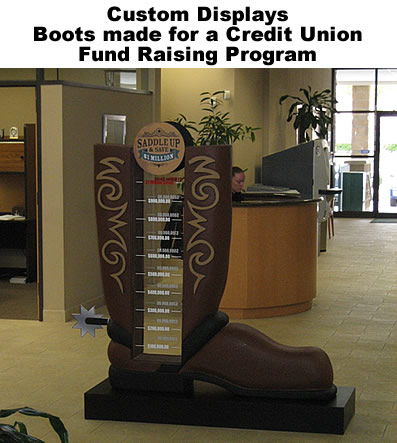 Custom Made Foam Displays.
3 Boot with clear box Props were made for a Credit Union
Fund Raiser.
---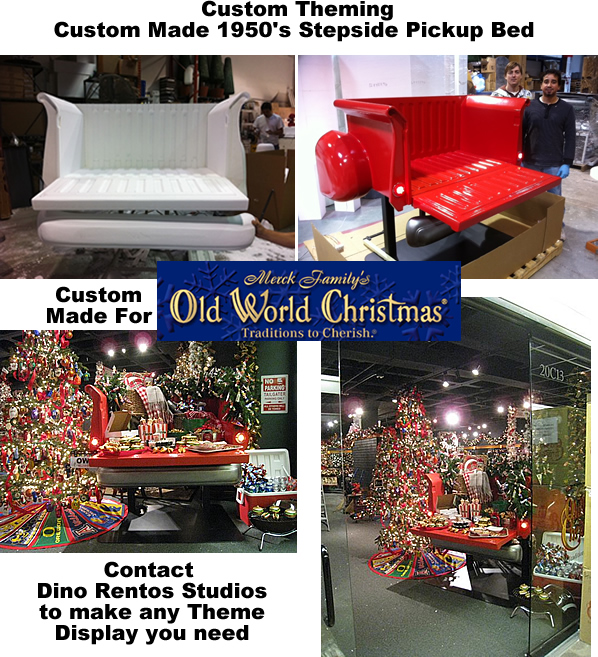 Retail Displays - Custom Made
This Foam and Steel Pickup Truck Bed Display was
custom made for Old World Christmas
---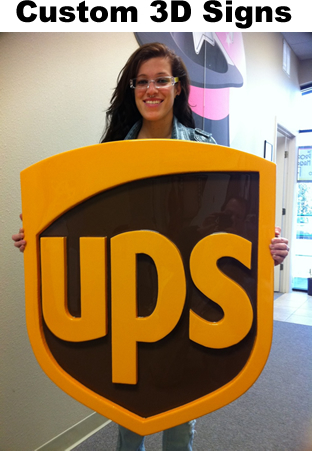 Custom Made 3D foam Signs.
Indoor or Outdoor Use.
---


Foam Product Replicas.
This Foam Window Replica Prop was created
for use at Trade Shows and Conventions.
---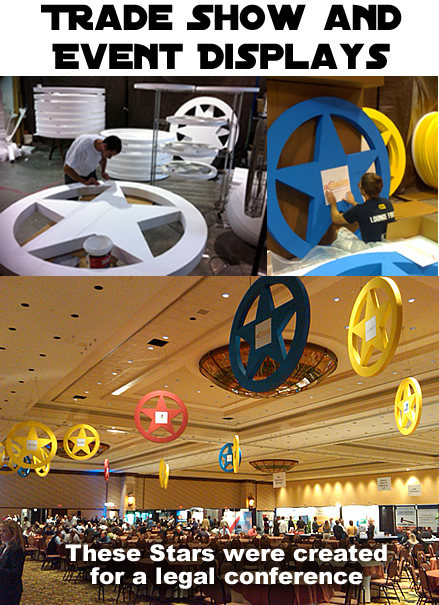 These Giant 6 foot Diameter Foam Texas Star Props were custom made for
a legal conference in Texas. Contact us to manufacture custom displays & Props
for your Trade Show, Event or Conference.
---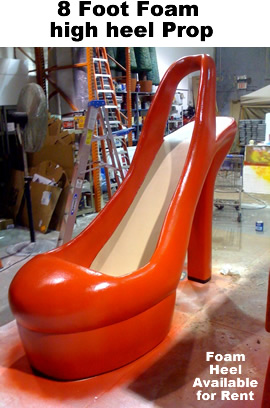 Giant high heel Foam Sculpture prop.
This giant 8 foot High heel was made for our
rental collection. Call to rent for your event.
---

Candyland Foam Props for a retail display at
Publix Grocery. Contact us to build any Displays you may
need for you event or display.
---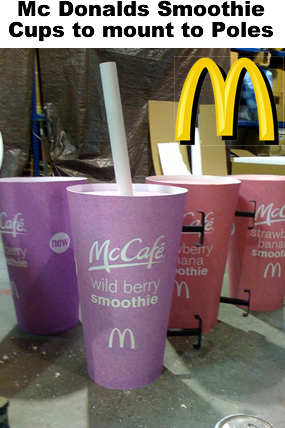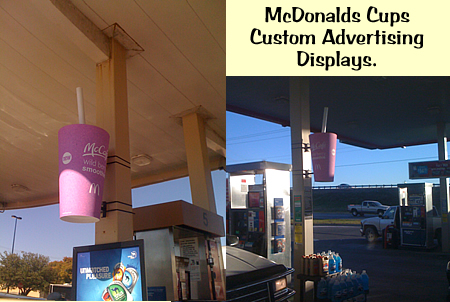 These Giant 4 Foot Tall McDonald Smoothie Cup Props were built to attach to Steel Beams
at Fuel Station in Texas. The Prop Magician-Dino Rentos Studios can
Make your product cups for any requirement.
---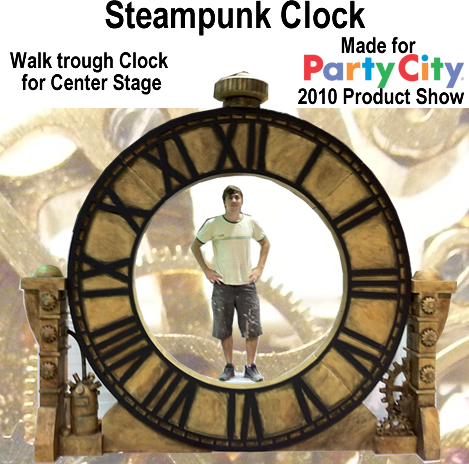 This Giant Steampunk Clock foam sculpture prop is the centerpiece for the
2010 Partycity new product rollout of 2011 items. Steps will be placed in the front
For Models to walk thru the clock and down on to the stage.
Contact us for your own or to rent a set piece.
---

This Retail Foam and Cardboard Display kit was created for Publix Grocery Stores.
Contact us to make any Retail display kits in foam or Cardboard.
---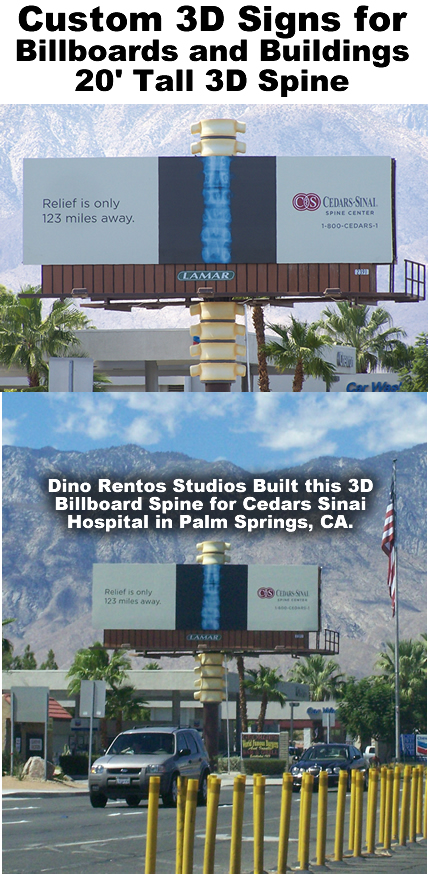 This giant foam spine was created to wrap around a 30" billboard sign pole.
THe spine segments have steel frames that bolt to the pole.
Contact Dino Rentos Studios for any Billboard 3D Sign componets / props that you need.
These giant 3D Foam signs can also be attached to buildings to theme the outside.
---

Big - Giant 15 foot long Dog Bone Foam Bench Sculpture Prop and 4 Foot Tall foam Fire Hydrants.
They have a heavy duty plastic coating and painted to specific colors.
The Foam props were built for outdoor use with steel a frame work inside.
These theme props were created for the new Best Friend Pet Care facility at Disney World, Orlando.
Building Designers and Architects around the country use Custom Made componets
from Dino Rentos Studios to Manufacture their theme environments.
---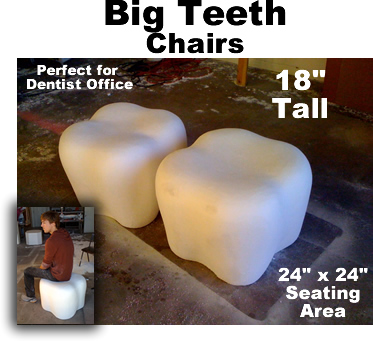 Big - Giant - Large Teeth / Molars Foam Props.
Used as decorations or for seats. These giant teeth props were made for a
Dentist office for the the visitors to sit on.
---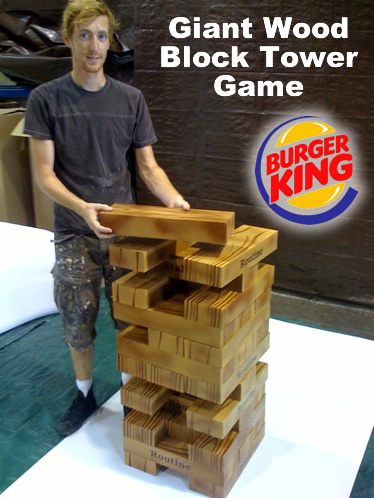 It's not a Jenga Game set. But our wood block tower game foam prop
was created for Burger King. They had custom wording on the sides of the blocks.
---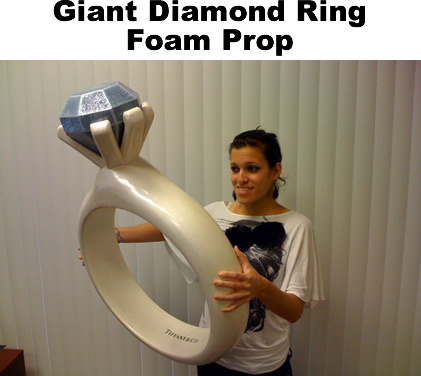 Big - Giant - Diamond Ring Foam Prop
Perfect for the one you love or any retail display.
The Gentleman who ordered this specific ring used it in his
Proposal to his Girlfriend. Wow !
---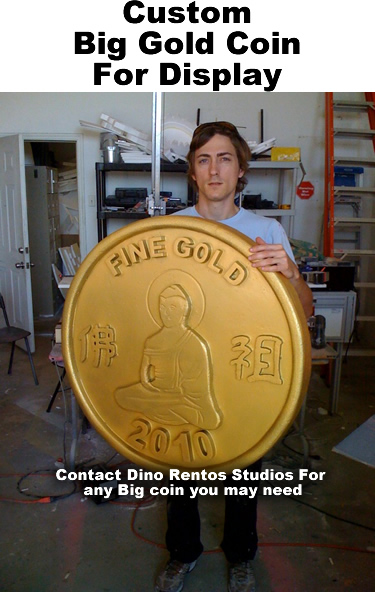 Big - Giant - Gold and Silver coin foam sculpture Props made to your needs !
Perfect for Displays, Retail and Events.
---

VOLCANO !
This custom made volcano foam prop sculpture was created for a Spa and Resort.
It is used in their evening stage show.
Call us to manufacture your custom Theme Props
---

THE THINKER
This foam relief prop sculpture was created for Manhattan Associates.
It was used in thier 2010 Conference as the Entrance Piece to their event
---

Chinese Steamed Dumpling - Custom Made Foam Prop for sign Installation.
This Giant Foam Steamed Dumpling was installed in Downtown Manhatten
For a Facade remake of a local popular Chinese Resturant.
---


Custom Made Foam Sculpture Props for Trade Shows and
New Product releases. These props were made for the new
Product release of the Video Game Raving Rabbits - "Travel In Time"
---

Land Ho !
This 40' x 40' trade show booth was made of foam and plastic coated.
It was custom made for Canon USA
This Giant 30 foot Pirate Ship Foam Prop, Foam Displays and Supporting extras were created in 8 Days.
Dino Rentos Studios Delivered and Installed the entire Trade Show booth
---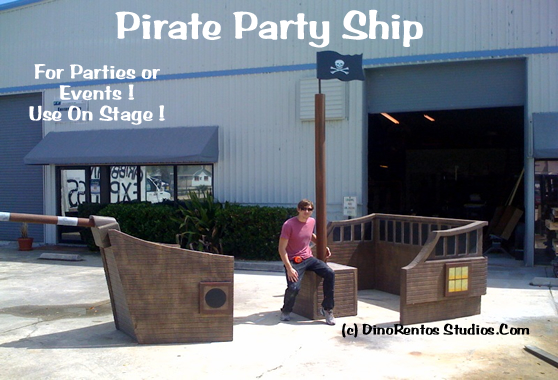 This Full size foam 3D Pirate Party ship fits a 6 foot table in the stern.
Perfect for Parties and Events. Use on stage or on a Float
Click Picture for more details
This ship was made for a H.S. Prom
---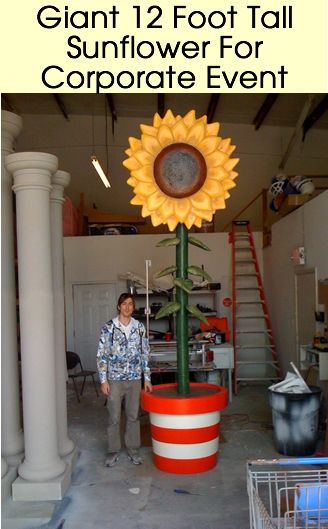 This Giant 12 foot Sunflower Prop Sculpture was created for a Corporate Event.
It was designed to have a break away stem that could be cut with a Hedge Clipper.
The prop stem would cut durring the event opening.
---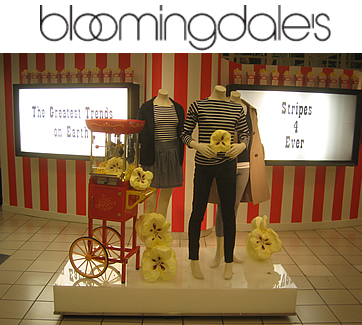 Dino Rentos Studios Created these Giant Popcorn Foam Props for Bloomingdale's in NYC.
Dino Rentos Studios can help you with your displays, Call Us today.
---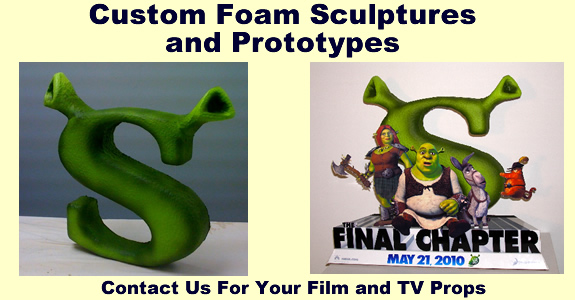 Dino Rentos Studios Created this Prototype for a marketing provider.
The prototype was for presentation to Paramount and Dreamworks.
for distribution to movie theaters for the New Shrek 4 Movie..
---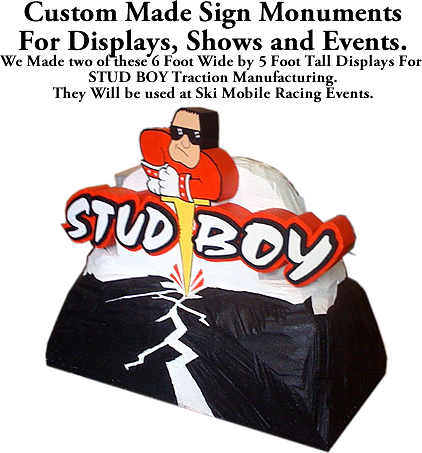 This Large Displays are 6 foot wide by 5 Foot Tall. We made two Custom Foam Displays for
STUDBOY TRACTION Manufacturing. A Leader in Snow Mobile parts.
Contact Us to Make a custom display for your company.
---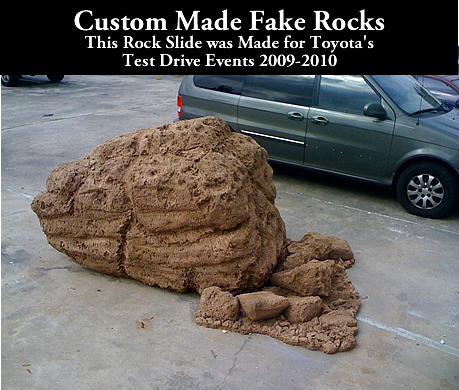 This Giant Foam Fake Rock slide prop was created for Toyota's Test Drive Events across the country.
The Foam Rock Props were hard coated and ready to use outdoors on the test tracks.
Contact us for your custom Displays.
---

This Giant 3 Foot Wide Playstation Joystick Foam Prop was created for a
Custom made sign.
---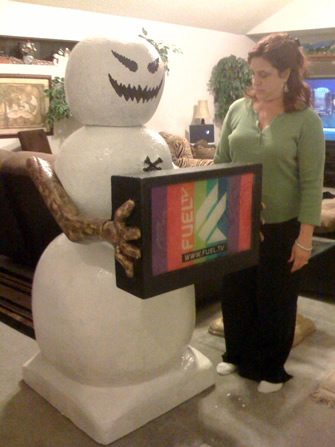 This custom Made Snowman was made for Fuel TV
Contact us to make your custom Foam and Cardboard Props.
---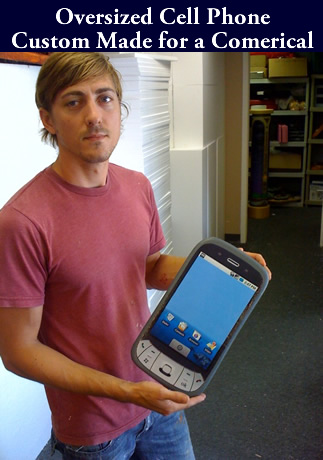 This custom made oversized cell phone foam prop was created for a TV commercial.
---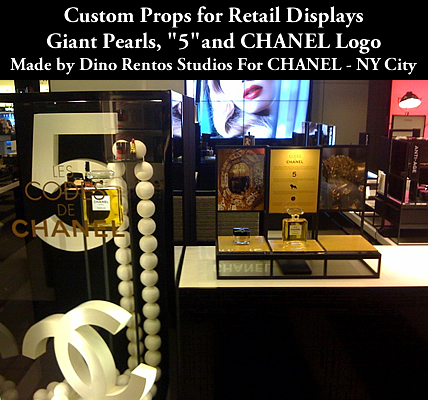 Custom Made Retail Display Foam Props
The "5", CHANEL Logo and 18 Foot long strand of Pearls
were created for CHANEL-USA in Manhattan, NYC.
---

Custom Made Cardboard and Foam Cup Props of your product.
These Custom made Cardboard and Foam Coffee cups were made for McDonalds.
Contact us, your custom prop maker for your company needs.
---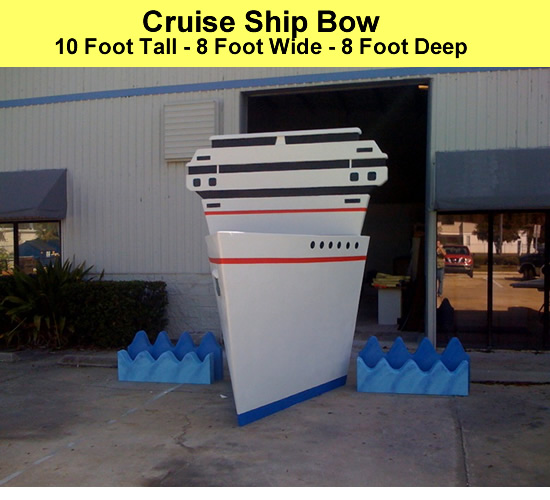 This Giant, 10 Foot Tall, Custom Made Crusie Ship Bow Foam Prop
is 8 Feet Wide and 8 Feet Deep. It has 5 feet of waves on each side.
The Cruise Ship Foam Prop was made as a display for a Casino to give away free cruises.
Call us, your custom prop maker, to make your custom designed and hard coated foam props.
---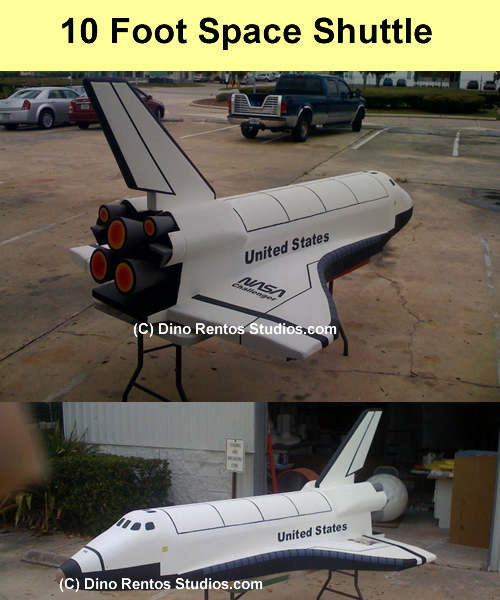 10 Foot Space Shuttle Challenger Foam Prop Sculpture
This Space Shuttle Foam Prop will be mounted against a building to look like it is taking off
Have your custom Made Prop Made by Dino Rentos Studios
---

Contact Us for Custom Made Architectural Designs
For Trade Shows, Stage and Theater, Film and Events
This Giant Foam Roman Colonnade, Columns and capstones were created for a wedding.
---

This big custom "Booger Monster" foam prop sculpture was created for Warner Brothers new movie "Shorts". Release Date Aug 2009.
The custom prop was hand carved from EPS foam and is 7 feet tall ! It is plastic coated then painted by the Dino Rentos Studios artists.
Finally it was high gloss coated for the shiney look. The prop weighs only 77 lbs.

Contact Us for your custom made prop
Watch the Trailer for "Shorts"
---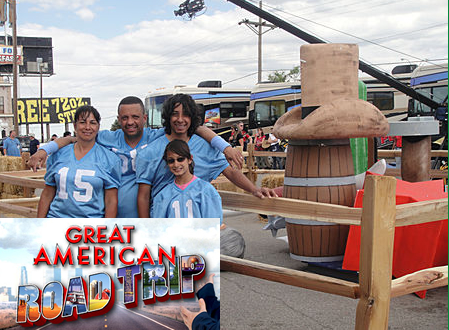 Dino Rentos Studios made 14, four to eight foot giant props for the NBC Channel's
new TV show, "Great American Road Trip".
The props were used in a challenge. See Right

Let us be your custom foam prop maker !
---

This Big Foam Book Prop was created for the Myriad Gardens in Oklahoma City.
It is 3 Foot Tall and was custom painted witih a leather looking binder and old pages.

Tell us what prop you need and we can custom make it for you.
---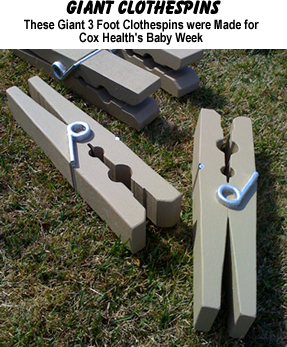 Hang up some really big Diapers with these 3 foot clothes pins !
---