We are open for business and processing orders after Hurricane Irma. Feel Free to call Customer Service with any questions. 800-704-7089 x 1
Giant Super Castle 3D Foam Prop - 6 Foot by 7 Foot
Giant Super Castle 3D Foam Prop - 6 Foot by 7 Foot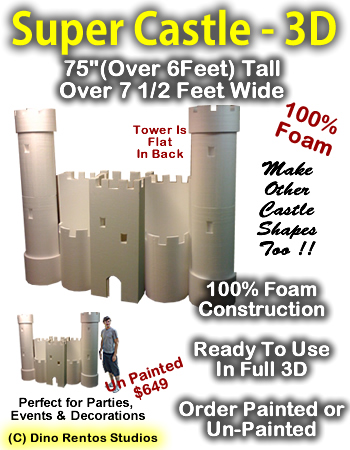 Giant Super Castle 3D Foam Prop - 6 Foot by 7 Foot
Perfect decoration for any event, party or display. Can also be used as decoration for kid's room or as a fun play toy!
Though it is flat in the back, the castle is a whopping 7 feet long and 6 feet tall.
Order multiple castle prop kits to make a larger castle display.
Order it fully painted, ready to use, or unpainted so you can paint it as a project.
Pick your color below:
Grey: Like a regular castle
Pink: For a girl's princess castle
White: Castle in the sky - put cotton around it
Red or Black: Evil forces castle
Blue: Ice castle
Green: Earth castle
Add a rock mountian under the castle (not shown). Adds 12" to the height.
Upgrade to Hard Coated so it feels and looks like Rock.
Allow 2 weeks for delivery.
Comes with extra sturdy box for storage.
Call for pricing on multiple quantity and savings on shipping.
Customer feedback
Reviews
There have been no reviews for this product.

Select By Theme

Popular

Categories

Authentication

News
02-11-2014
Dino Rentos Studios on Travel Channels'
Baggage Battles TV show.
Look for Dino Rentos Studios this spring (2014) on the Travel Channels' Baggage Battles TV show.
Sally and Lawerence visit Dino Rentos Studios for some advice on props that they win on this episode. We can't tell you want they won. Youll Have to wait for the airing to see.
-Dino Rentos
All news
Subscribe