Pro Model Starter Kit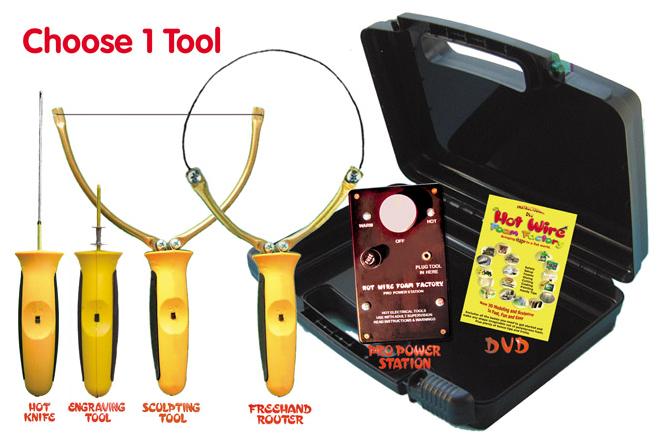 Pro Model Starter Kit
Choose any SINGLE tool from the Sculpting Tool, Engraving Tool, Freehand Router, or Hot Knife. Plug it into the variable Pro Power Station and start cutting! Comes with the Variable Pro Power Station, 6 spare wires for the Sculpting Tool (heavier than the wires used with the AC powered model), 4 blades for the Freehand Router, and the 90 minute Hot Wire Foam Factory Instructional DVD. Packaged in a sturdy black toolbox large enough to accommodate all the pro tools and accessories.
Customer feedback
Reviews
There have been no reviews for this product.

Select By Theme

Popular

Categories

Bestsellers

Authentication

News
02-11-2014
Dino Rentos Studios on Travel Channels'
Baggage Battles TV show.
Look for Dino Rentos Studios this spring (2014) on the Travel Channels' Baggage Battles TV show.
Sally and Lawerence visit Dino Rentos Studios for some advice on props that they win on this episode. We can't tell you want they won. Youll Have to wait for the airing to see.
-Dino Rentos
All news
Subscribe