3/3/17 We Updated Our Site. Please Let us know if you have any issues, Thanks - Dino..
Styrosmith with Magnum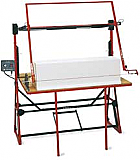 Styrosmith with Magnum
2-in-1 Hot Wire Down Cutter and Ornamental Shaper
All the Features of the StyroCut 15 Combined with Our SideWinder Shape-Cutting Machine
Ornamental Shapes
Vertical and Horizontal Straight Cuts
Channel
Angles
Tapers
Auxillary Table
Weighs 225 Pounds
We've combined the talent from our two most popular machines, the Styrocut 15 and the Sidewinder, and merged them into one great machine -- The StyroSmith.
Customer feedback
Reviews
There have been no reviews for this product.

Select By Theme

Categories

Bestsellers

Authentication

News
02-11-2014
Dino Rentos Studios on Travel Channels'
Baggage Battles TV show.
Look for Dino Rentos Studios this spring (2014) on the Travel Channels' Baggage Battles TV show.
Sally and Lawerence visit Dino Rentos Studios for some advice on props that they win on this episode. We can't tell you want they won. Youll Have to wait for the airing to see.
-Dino Rentos
All news
Subscribe