The Rock - WWE Cardboard Cutout Standup Prop
The Rock - WWE Cardboard Cutout Standup Prop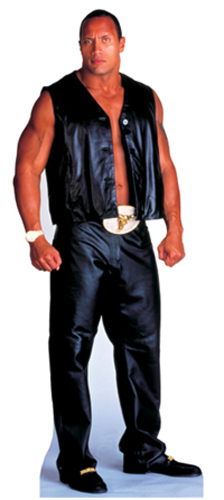 The Rock - WWE Cardboard Cutout Standup Prop
Dwayne Douglas Johnson, also known as The Rock, is an American actor and semi-retired professional wrestler who works for WWE (World Wrestling Entertainment.) He is the first third-generation wrestler in the history of the WWF (World Wrestling Federation,) has 17 championship reigns in the WWE, is considered one of the greatest professional wrestlers of all time, and has appeared in 15 successful films.
Please allow 2-3 weeks for delivery.
Customer feedback
Reviews
There have been no reviews for this product.

Select By Theme

Popular

Categories

Authentication

News
02-11-2014
Dino Rentos Studios on Travel Channels'
Baggage Battles TV show.
Look for Dino Rentos Studios this spring (2014) on the Travel Channels' Baggage Battles TV show.
Sally and Lawerence visit Dino Rentos Studios for some advice on props that they win on this episode. We can't tell you want they won. Youll Have to wait for the airing to see.
-Dino Rentos
All news
Subscribe