6 Foot Giant Clam/Scallop Foam Prop/Costume
6 Foot Giant Clam/Scallop Foam Prop/Costume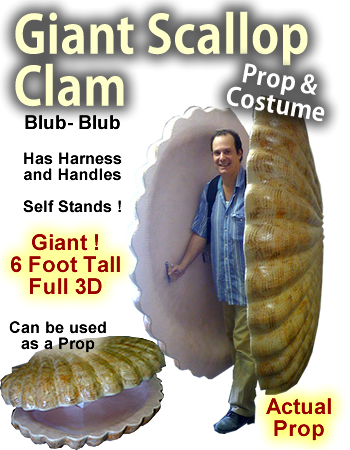 6 Foot Giant Clam/Scallop Foam Prop/Costume
Great for Under The Sea themes.
Can be worn as a costume or used as a free-standing prop. Shell is hinged in the back to open and close.
Select your shell size below: 2 - 6 toot tall.
Call us for a customized version.
1 side of 6 foot shell available for $1,595. Call us to order.
Customer feedback
Reviews
There have been no reviews for this product.

Select By Theme

Popular

Categories

Bestsellers

Authentication

News
01-30-2019

Happy Valentine's from us here at Dino Rentos Prop Studios!
The TREATS on us!!
Enjoy 10% OFF all "DRS" Cardboard Cutout Standup Props.
http://dinorentosstudios.com/Cardboard-Cutout-Standup-Props-Custom-Cutouts/
All news
Subscribe