Bow & All Tools International Power Converter
Bow & All Tools International Power Converter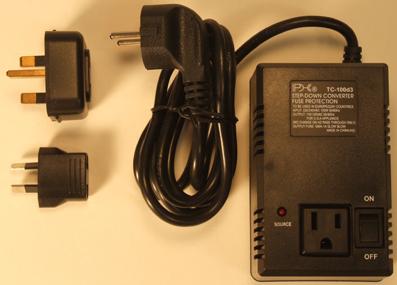 Bow & All Tools International Power Converter
Now you can use all of our tools, including the big 2x4 Compound Bow Cutter anywhere in the world.
Converts our 110 Volt power supplies to work with 220 Volt style outlets.
Specify country so we can send the adaptor you need to plug into your wall socket.
The Bow Cutter comes with a US 110 Volt power supply that will plug into this converter.
You can also use this converter with our Crafters power supply and our Pro Power Station to work with all of our hand tools and Scroll and 3D Table.
Customer feedback
Reviews
There have been no reviews for this product.

Select By Theme

Popular

Categories

Bestsellers

Authentication

News
02-11-2014
Dino Rentos Studios on Travel Channels'
Baggage Battles TV show.
Look for Dino Rentos Studios this spring (2014) on the Travel Channels' Baggage Battles TV show.
Sally and Lawerence visit Dino Rentos Studios for some advice on props that they win on this episode. We can't tell you want they won. Youll Have to wait for the airing to see.
-Dino Rentos
All news
Subscribe