Cracked Egg Foam Prop for Baby or Pets
Cracked Egg Foam Prop for Baby or Pets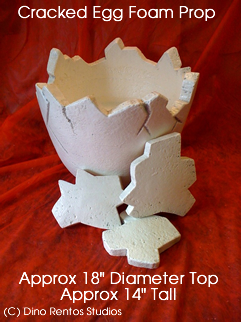 Cracked Egg Foam Prop for Baby or Pets
Perfect for photography sets.
Approximately 24" diameter at top and 14" tall.
Fully plastic coated for durability and longevity.
Comes with egg shell pieces.
Call for custom sizes.
Customer feedback
Reviews
There have been no reviews for this product.

Select By Theme

Popular

Categories

Authentication

News
01-30-2019

Happy Valentine's from us here at Dino Rentos Prop Studios!
The TREATS on us!!
Enjoy 10% OFF all "DRS" Cardboard Cutout Standup Props.
http://dinorentosstudios.com/Cardboard-Cutout-Standup-Props-Custom-Cutouts/
All news
Subscribe