Crafters Deluxe 3-in-1 Engraver/Hot Knife/Sculpt Kit
Crafters Deluxe 3-in-1 Engraver/Hot Knife/Sculpt Kit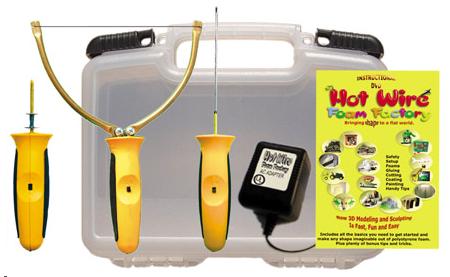 Crafters Deluxe 3-in-1 Engraver/Hot Knife/Sculpt Kit
Includes the Sculpting Tool (with 6 wires), 4" Hot Knife, Engraving Tool, Crafters Power Supply and 90 minute Hot Wire Foam Factory DVD, all in a handy carrying case.
Get Creative! The Sculpting Tool is our most popular and versatile tool for freehand sculpting, carving, and scroll cutting. Making realistic hills and mountains has never been easier. Cuts foam like a hot knife through butter.
Plunge, Slice, and Dice! The Hot Knife is the foam cutting tool the world has been asking for. A combo hand held scroll saw and power drill that cuts foam with fast clean surgical precision. The 4 inch blade is made from thin tough steel, with a unique round shape that slices quickly and cleanly in any direction like magic.
It's All in the Details! The Engraving Tool is perfect for engraving bricks, blocks, stones, words, and other shapes for detailed looking walls, abutments, portals, slats, cobblestone roads, signs and more. A fine finishing tool for detailing any type of 2-D or 3-D sculpture or model. Only the tip heats up.
Customer feedback
Reviews
There have been no reviews for this product.

Select By Theme

Popular

Categories

Bestsellers

Authentication

News
02-11-2014
Dino Rentos Studios on Travel Channels'
Baggage Battles TV show.
Look for Dino Rentos Studios this spring (2014) on the Travel Channels' Baggage Battles TV show.
Sally and Lawerence visit Dino Rentos Studios for some advice on props that they win on this episode. We can't tell you want they won. Youll Have to wait for the airing to see.
-Dino Rentos
All news
Subscribe