We are updating our checkout process. Please call us to place order of what is in your cart - 7/26/17 3:30 pm EST - DINO
Hot Wire Foam Factory Instructional DVD
Hot Wire Foam Factory Instructional DVD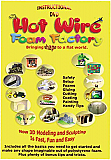 Hot Wire Foam Factory Instructional DVD
Regularly $24.95, this brand new 17 chapter 90 fun-filled foam minutes instructional DVD shows you all the basics you need to get started immediately and make just about any shape imaginable out of polystyrene foam. From precise architectural shapes, to freeform miniatures, to huge shapes. The best techniques for painting and gluing, plus tons of handy tips. This DVD comes free with many of our kits!
Customer feedback
Reviews
There have been no reviews for this product.

Select By Theme

Popular

Categories

Bestsellers

Authentication

News
02-11-2014
Dino Rentos Studios on Travel Channels'
Baggage Battles TV show.
Look for Dino Rentos Studios this spring (2014) on the Travel Channels' Baggage Battles TV show.
Sally and Lawerence visit Dino Rentos Studios for some advice on props that they win on this episode. We can't tell you want they won. Youll Have to wait for the airing to see.
-Dino Rentos
All news
Subscribe