We are updating our checkout process. Please call us to place order of what is in your cart - 7/26/17 3:30 pm EST - DINO
Independent Axis Shape and Lathe Cutter
Independent Axis Shape and Lathe Cutter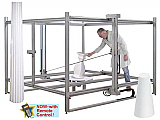 Independent Axis Shape and Lathe Cutter
TW848i Features:
5-Year Warranty
Heavy-Duty, Extruded Aluminum Construction
Single Automatic Tensioned Cutting Wire
Titanium, Low-Stretch, Heavy-Duty Wire
Can Use Shaped Wire
Automatic Wire Tensioner
Lathe
Turntable
Remote Control
MegaPlot Software is Available in 11 Languages: English, Spanish, Chinese, French, German, Hungarian, Italian, Polish, Slovakian, Romanian and Russian.
3D Cutting From 3DRaw Models Using Your 3D Software (Rhino 3D, etc.)
Heavy-Duty Stepper Motors Independently Drive X and Y Axis
Ball-Bearing Drive Track System Ensures Smooth, Quiet Operation
Runs on Any Pentium PC with Windows® 95 thru XP
Accepts Files from PC and Mac in HPGL (.plt) and CAD (.dxf) Formats
Comes Complete with Controller Driver
110-Volt Operation
Customer feedback
Reviews
There have been no reviews for this product.

Select By Theme

Popular

Categories

Authentication

News
02-11-2014
Dino Rentos Studios on Travel Channels'
Baggage Battles TV show.
Look for Dino Rentos Studios this spring (2014) on the Travel Channels' Baggage Battles TV show.
Sally and Lawerence visit Dino Rentos Studios for some advice on props that they win on this episode. We can't tell you want they won. Youll Have to wait for the airing to see.
-Dino Rentos
All news
Subscribe