We are updating our checkout process. Please call us to place order of what is in your cart - 7/26/17 3:30 pm EST - DINO
Life Size Doll Box Cardboard Prop
Life Size Doll Box Cardboard Prop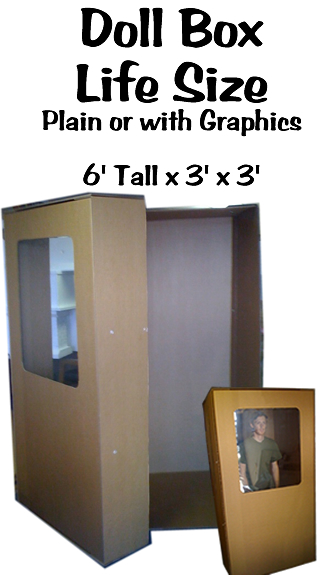 Life Size Barbie Doll Box Cardboard Prop
Life Size Doll box perfect for the party !
Order as cardboard alone and decorate the giant doll box as you want or have us add graphics to the Lid and outer perimiter of the box. (No Graphics inside)
Constructed of Double thick cardboard.
Comes as a kit for you to assemble.
Allow 2 weeks for delivery.
Call For Custom Sizes
Customer feedback
Reviews
There have been no reviews for this product.

Select By Theme

Popular

Categories

Authentication

News
02-11-2014
Dino Rentos Studios on Travel Channels'
Baggage Battles TV show.
Look for Dino Rentos Studios this spring (2014) on the Travel Channels' Baggage Battles TV show.
Sally and Lawerence visit Dino Rentos Studios for some advice on props that they win on this episode. We can't tell you want they won. Youll Have to wait for the airing to see.
-Dino Rentos
All news
Subscribe