We are open for business and processing orders after Hurricane Irma. Feel Free to call Customer Service with any questions. 800-704-7089 x 1
Mayan - Aztec Snake Head Cardboard Cutout Standup Prop
Mayan - Aztec Snake Head Cardboard Cutout Standup Prop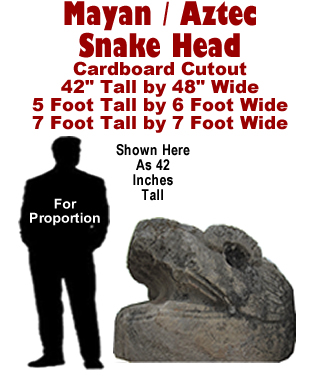 Mayan - Aztec SneakHead Cardboard Cutout Prop
Flat Carboard Cutout- Print on one Side.
Pin it to a wall or add the Self Standing Option.
Perfect for your Mayan Theme or event.
Choose the size you want.
Or call us for custom Versions
Upgrade ! to Double walled cardboard for extra strength. See Below
Upgrade to plastic cardboard for outside use
Upgrade ! Add a Metal Gromet. So it can hang from string.
Add a motion activated Sound recorder
Print comes in plain Matt Finish.
Add Lamination, which adds a plastic film on the print. This allows you to wipe the print off and is water resistant
Add Lamination of High Gloss for a shiney bright look
or Matt Finsh Laminate for photographs and low reflection needs
Manufactured in 5 Business Days. Expidite Service Available. See Below.
Call For Custom Sizes.
Customer feedback
Reviews
There have been no reviews for this product.

Select By Theme

Popular

Categories

Authentication

News
02-11-2014
Dino Rentos Studios on Travel Channels'
Baggage Battles TV show.
Look for Dino Rentos Studios this spring (2014) on the Travel Channels' Baggage Battles TV show.
Sally and Lawerence visit Dino Rentos Studios for some advice on props that they win on this episode. We can't tell you want they won. Youll Have to wait for the airing to see.
-Dino Rentos
All news
Subscribe