Mayan - Aztec Pyramid Cardboard Cutout Standup Prop
Mayan - Aztec Pyramid Cardboard Cutout Standup Prop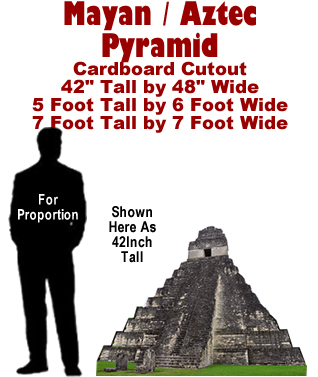 Mayan - Aztec Pyramid Cardboard Cutout Prop
Flat Carboard Cutout- Printed on one Side.
Pin it to a wall or add the Self Standing Option. 
Perfect for your Mayan Theme or event.
Choose the size you want.
Or call us for custom Versions
Upgrade ! to Double walled cardboard for extra strength. See Below
Upgrade to plastic cardboard for outside use
Upgrade ! Add a Metal Gromet. So it can hang from string.
Add a motion activated Sound recorder
Print comes in plain Matt Finish.
Add Lamination, which adds a plastic film on the print. This allows you to wipe the print off and is water resistant
Add Lamination of High Gloss for a shiney bright look
or Matt Finsh Laminate for photographs and low reflection needs
Manufactured in 5 Business Days. Expidite Service Available. See Below.
Call For Custom Sizes.
Customer feedback
Reviews
Author: Lea
I was looking for a Mayan Pyramid to decorate the gym of a school for International Day. All the ones I found were very cardboard looking until I found this one which is very realistic. When I called to order it, the rep on the phone was very nice and helpful; she said it was going to take 5 business day to have it ready to ship. I was really surprised when 3 days later I had it delivered at my house. It come in big pieces which I had to put together but it was fairly simple. The instructions could be improved, otherwise I was really impressed of how beautiful it looks, specially because I have seen it in the archaeological site of "Tikal".
The pyramid was the main focus in the gym and parents took pictures with their children in front of it.
I totally recommend Dino Rentos Studios and this wonderful cardboard prop.