Pirate's Revenge - Cardboard Facade Pirate Treasure Ship
Pirate's Revenge - Cardboard Facade Pirate Treasure Ship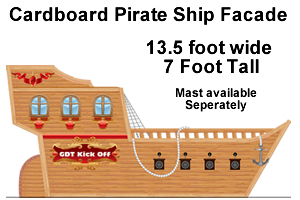 Pirate's Revenge - Cardboard Facade Pirate Treasure Ship Prop
The Pirate's Revenge cardboard ship prop is a Dino Rentos Studios exclusive design.
This Pirate ship cardboard prop is a self-standing ship. Perfect for stage, events and parties.
On stage, put a riser behind it to look like you're on-board!
Optional mast adds even more excitement.
We preconfigure the cardboard sections with velcro for easy disassembly, storage and reuse.
Our most popular Pirate Ship prop.
Assembles in under an hour. For Indoor Use.
This is a flat façade cardboard display prop. It is not three-dimensional (3D).
Production time for this product is 2 weeks.
Customer feedback
Reviews
There have been no reviews for this product.

Select By Theme

Popular

Categories

Authentication

News
02-11-2014
Dino Rentos Studios on Travel Channels'
Baggage Battles TV show.
Look for Dino Rentos Studios this spring (2014) on the Travel Channels' Baggage Battles TV show.
Sally and Lawerence visit Dino Rentos Studios for some advice on props that they win on this episode. We can't tell you want they won. Youll Have to wait for the airing to see.
-Dino Rentos
All news
Subscribe