Ticketbooth / Box Office Cardboard Cutout Standup Prop
Ticketbooth / Box Office Cardboard Cutout Standup Prop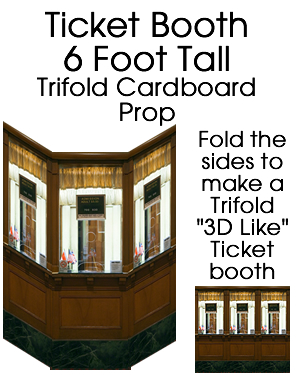 Ticketbooth / Box Office Cardboard Cutout Standup Prop
This ticketbooth assemble is minutes. Fold over the sides and it self Stands like a "Trifold". Add a Ticket Booth anywhere you need for your display.
Uses Double walled cardboard for extra sturdy construction.
Upgrade to a Glossy Finish for even more brilliant color.
Call for other sizes.
Customer feedback
Reviews
There have been no reviews for this product.

Select By Theme

Popular

Categories

Bestsellers

Authentication

News
02-11-2014
Dino Rentos Studios on Travel Channels'
Baggage Battles TV show.
Look for Dino Rentos Studios this spring (2014) on the Travel Channels' Baggage Battles TV show.
Sally and Lawerence visit Dino Rentos Studios for some advice on props that they win on this episode. We can't tell you want they won. Youll Have to wait for the airing to see.
-Dino Rentos
All news
Subscribe