Tombstone Skull Sculpture Statue Prop
Tombstone Skull Sculpture Statue Prop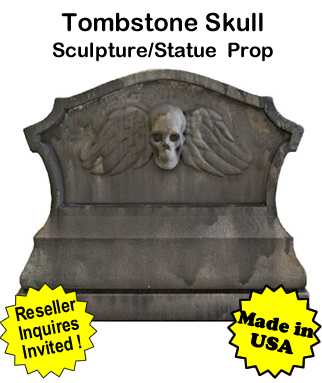 Tombstone Skull Sculpture Statue Prop
Turn any space into a spooky cemetery with this Tombstone Skull Sculpture Statue Prop! Set an eerie mood with this lifelike tombstone prop. Purchase our other Tombstone props to populate your space and create the setting for a haunted attraction!
This Tombstone Skull sculpture statue prop measures 43" wide x 36" tall x 12" deep. It is cut in EPS foam then double coated with our exclusive flexible concrete coating which chemically bonds to the foam and stays permenant to the sculpture.
This Tombstone Skull sculpture statue prop is shipped to you via freight.
ATTENTION: Shipping is additional and not shown on invoice. Call us in advance for freight estimate or we will call with freight cost.
Customer feedback
Reviews
There have been no reviews for this product.

Select By Theme

Popular

Categories

Authentication

News
01-30-2019

Happy Valentine's from us here at Dino Rentos Prop Studios!
The TREATS on us!!
Enjoy 10% OFF all "DRS" Cardboard Cutout Standup Props.
http://dinorentosstudios.com/Cardboard-Cutout-Standup-Props-Custom-Cutouts/
All news
Subscribe