Tootsie Roll 3D Foam Prop Candy
Tootsie Roll 3D Foam Prop Candy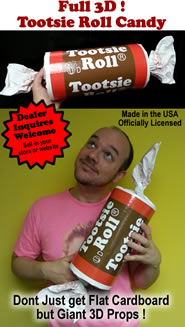 Tootsie Roll 3D Candy Prop
Hey ! Pass me a tootsie roll !. Got to love them little candies.
Now you can have a giant Tootsie roll !. Decorate your party, retail space or event.
Dont just have a flat 2D cardboard cutout. !!
Perfect for centerpieces, gifts and decorating anywhere you have a candy themed event.
Piece is approx 20"-24" end to end of the wrapper. Ships right away.
These Officiall Licensed candy props are manufactured right here in Orlando, Florida !. MADE IN THE U.S.A.
Party Supply stores: Dealer Inquires Welcome !
Sorry, due to Licensing this product can only be sold in the US, No international shipments.
Customer feedback
Reviews
There have been no reviews for this product.

Select By Theme

Popular

Categories

Authentication

News
02-11-2014
Dino Rentos Studios on Travel Channels'
Baggage Battles TV show.
Look for Dino Rentos Studios this spring (2014) on the Travel Channels' Baggage Battles TV show.
Sally and Lawerence visit Dino Rentos Studios for some advice on props that they win on this episode. We can't tell you want they won. Youll Have to wait for the airing to see.
-Dino Rentos
All news
Subscribe