1500ml Dual Cartridge Poly Spray Gun
1500ml Dual Cartridge Poly Spray Gun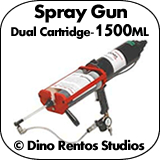 1500ml Dual Cartridge Poly Spray Pneumatic Air Gun
Attach this spray gun to a standard air compressor. Plug in a Polyspray cartridge and coat your foam sculpture.
Many cartridges available to coat foam.
Polyspray Cartridge Specs:
Environmentally safe
Contains Nno VOC's
One 1500 ml cartridge set covers 21 sq. ft. @ 30 mils
Coating is paintable
100% solids, two-component aromatic polyurethane
Dries in 7 minutes at 70 degrees
Color is neutral
May be painted after 7 minutes
Customer feedback
Reviews
There have been no reviews for this product.

Select By Theme

Popular

Categories

Authentication

News
02-11-2014
Dino Rentos Studios on Travel Channels'
Baggage Battles TV show.
Look for Dino Rentos Studios this spring (2014) on the Travel Channels' Baggage Battles TV show.
Sally and Lawerence visit Dino Rentos Studios for some advice on props that they win on this episode. We can't tell you want they won. Youll Have to wait for the airing to see.
-Dino Rentos
All news
Subscribe