1 Gallon Foam Shield II - Foam Coating
1 Gallon Foam Shield II - Foam Coating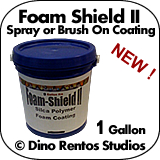 Foam Shield
Foam Coating for Art Sculptures and Architectural Shapes
1 Gallon Size
Brushable and Sprayable: See our Spray Hopper Gun
Dino Rentos Studios Foam Shield is a protective yet flexible hard foam coat for foam sculptures, props and architectural foam shapes. Foam Shield is manufactured using acrylic latex resins comprised of water-based polymers and other unique compounds. This is a simple premixed, one componet coating; ready to use. It can be sanded.
This coating is like a batter that you brush on your foam sculpture and gives it the hard outer coat for indoor or outdoor use. Cleans up with water.

This carefully crafted formula drastically reduces the emission of Volatile Organic Compounds (V.O.C.'s) making it safe for applicators and the environment.
Key Features
- Single product - no top coat required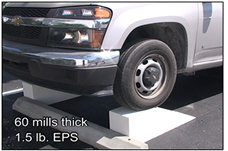 - Excellent adhesion - no primer required
- No mesh required
- No cement in Foam Shield
- Applies with Hopper Gun or Brush
- Environmentally Friendly
- Water Bourne Compound
- Pre-mixed
- Low V.O.C. Content
- Easy Water Clean-up
Key Additives Include:
- Two Biocides, both Wet State and Dry Film, to prolong shelf life and increase mold resistance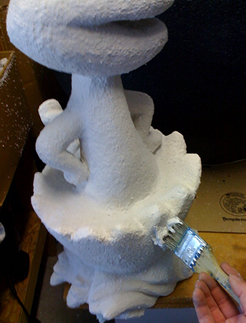 - Plasticizers to reduce brittleness and increase flexibility to closely match the expansion and contraction of foam
- Pseudoplastic Rheology modifiers to reduce sagging and enhanced leveling during application
- Surfectants to prevent cratering and cracking during application and drying
Customer feedback
Reviews
There have been no reviews for this product.