24 Inch Big Egg Foam Prop
24 Inch Big Egg Foam Prop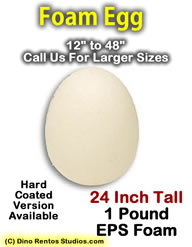 24 Inch Big Egg Foam Prop
24" tall foam egg prop. Great for retail displays or any Easter displays.
Made from 1 pound EPS foam.
Larger sizes available. Call us.
Customer feedback
Reviews
There have been no reviews for this product.

Select By Theme

Popular

Categories

Authentication

News
01-07-2019
Happy New Year from Dino Rentos Prop Studios!!
Start the New Year with SAVINGS!!
15% OFF all "DRS" Cardboard Standups
800.704.7089 x 1
All news
Subscribe