We are open for business and processing orders. Our families are safe. We are working on generators with limited power and staff. Feel Free to call Customer Service with any questions. 800-704-7089 x 1
Big Foam Cupcake Prop - 28" Tall
Big Foam Cupcake Prop - 28" Tall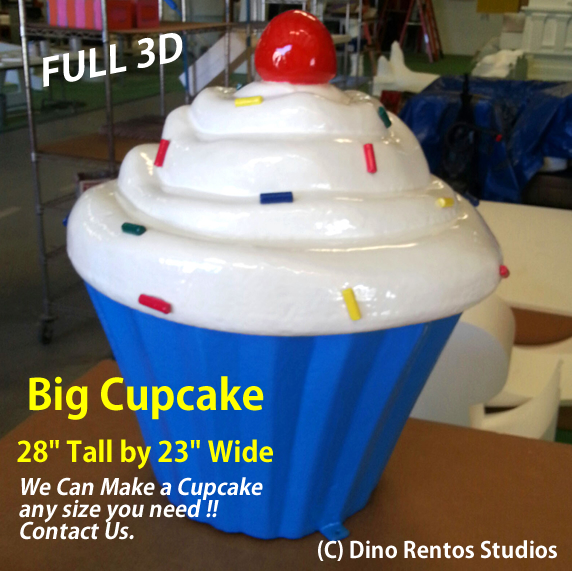 Big Foam Cupcake Prop - 28" Tall
This colorful cupcake is approximately 28" tall by 23" wide. It makes a perfect addition to your food or candy display.
Has Super Gloss frosting, sprinkles, and cherry.
Have your big foam cupcake prop hard coated for outdoor use.
Painted foam version is under 10 lbs.
Plastic coated version is under 18 lbs.
Call for custom versions.
Please Note: This item may require an additional charge at time of shipment.
Customer feedback
Reviews
There have been no reviews for this product.

Select By Theme

Popular

Categories

Authentication

News
02-11-2014
Dino Rentos Studios on Travel Channels'
Baggage Battles TV show.
Look for Dino Rentos Studios this spring (2014) on the Travel Channels' Baggage Battles TV show.
Sally and Lawerence visit Dino Rentos Studios for some advice on props that they win on this episode. We can't tell you want they won. Youll Have to wait for the airing to see.
-Dino Rentos
All news
Subscribe