Eqyptian Sphinx Foam Display Prop
Eqyptian Sphinx Foam Display Prop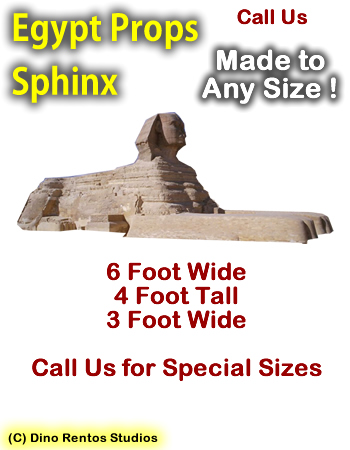 Egyptian Sphinx Foam Display Prop
This Sphinx display prop is great for film, stage and floats!
Order hard coated for a textured look and feel. Also makes it durable for long-term use.
Call for custom versions!
***THIS UNIT SHIPS FREIGHT. CHARGES ARE NOT INCLUDED. PLEASE CALL FOR YOUR SHIPPING ESTIMATE***
Customer feedback
Reviews
There have been no reviews for this product.

Select By Theme

Popular

Categories

Bestsellers

Authentication

News
01-30-2019

Happy Valentine's from us here at Dino Rentos Prop Studios!
The TREATS on us!!
Enjoy 10% OFF all "DRS" Cardboard Cutout Standup Props.
http://dinorentosstudios.com/Cardboard-Cutout-Standup-Props-Custom-Cutouts/
All news
Subscribe