3/3/17 We Updated Our Site. Please Let us know if you have any issues, Thanks - Dino..
JobCut with Magnum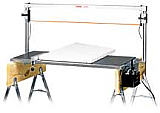 JOBCUT with Magnum
Designed for Job-Site Performance
Portable; Weighs Only 45 Pounds
Sets Up and Folds Down in Seconds
Cuts 12" at 90 Degrees
Harp Tilts; Not Table
Cuts from 1° to 90°
Requires Two 2x8's
110 Volts, also Available in 220 Volts
Cutting Width 48"
Customer feedback
Reviews
There have been no reviews for this product.

Select By Theme

Categories

Bestsellers

Authentication

News
02-11-2014
Dino Rentos Studios on Travel Channels'
Baggage Battles TV show.
Look for Dino Rentos Studios this spring (2014) on the Travel Channels' Baggage Battles TV show.
Sally and Lawerence visit Dino Rentos Studios for some advice on props that they win on this episode. We can't tell you want they won. Youll Have to wait for the airing to see.
-Dino Rentos
All news
Subscribe