We are updating our checkout process. Please call us to place order of what is in your cart - 7/26/17 3:30 pm EST - DINO
Polygem Aquagem Epoxy Plastic Foam Coating - 1.5 Quart Kit
Polygem Aquagem Epoxy Plastic Foam Coating - 1.5 Quart Kit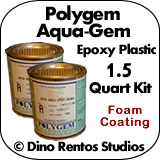 Polygem Aquagem Epoxy Plastic Foam Coating - 1.5 Quart Kit
This is a water-based epoxy coating specially formulated for use as a hard cost for foam surfaces. Its unique water-based formulation allows for ease of application.
You can add Thickener Agent to make the coating thicker to brush on and stay. It will self-level, leaving a smooth flexible plastic surface.


Mixing Instructions:
Mix 2 parts of B with 1 part of A. Mix until streak-free and uniform in color. Apply with a brush or roller. In 5 hours, it will be firm and takes 24 hours to cure.

Thickener should be added for a brush and stay consistency (sold separately). This firms up the foam coating so it will not run down verticle surfaces.

Kit is a total of 1.5 Quarts
Customer feedback
Reviews
There have been no reviews for this product.

Select By Theme

Popular

Categories

Authentication

News
02-11-2014
Dino Rentos Studios on Travel Channels'
Baggage Battles TV show.
Look for Dino Rentos Studios this spring (2014) on the Travel Channels' Baggage Battles TV show.
Sally and Lawerence visit Dino Rentos Studios for some advice on props that they win on this episode. We can't tell you want they won. Youll Have to wait for the airing to see.
-Dino Rentos
All news
Subscribe