Polygem Aquagem Epoxy Plastic Foam Coating - 1.5 Quart Kit
Polygem Aquagem Epoxy Plastic Foam Coating - 1.5 Quart Kit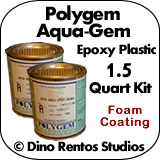 Polygem Aquagem Epoxy Plastic Foam Coating - 1.5 Quart Kit
This is a water-based epoxy coating specially formulated for use as a hard cost for foam surfaces. Its unique water-based formulation allows for ease of application.
You can add Thickener Agent to make the coating thicker to brush on and stay. It will self-level, leaving a smooth flexible plastic surface.


Mixing Instructions:
Mix 2 parts of B with 1 part of A. Mix until streak-free and uniform in color. Apply with a brush or roller. In 5 hours, it will be firm and takes 24 hours to cure.

Thickener should be added for a brush and stay consistency (sold separately). This firms up the foam coating so it will not run down verticle surfaces.

Kit is a total of 1.5 Quarts
Customer feedback
Reviews
There have been no reviews for this product.

Select By Theme

Popular

Categories

Authentication