Polygem EZ-Cast - Casting Epoxy Plastic
Polygem EZ-Cast - Casting Epoxy Plastic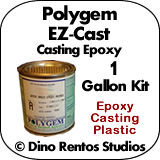 Polygem EZ-Cast - Casting Epoxy Plastic
E-Z CAST is a 100% solids casting epoxy used to provide intricate detail and superior finish qualities for most casting projects.
Cures into an extremely strong and durable plastic that is easily sanded or polished.
Can be tinted or painted and accepts stains and washes.
Solvent-free and won't dissolve foam surfaces or shrink during its cure.
A low viscosity liquid and has excellent air release properties for bubble-free castings.
Ideal for small or large castings where strength and durability are desired.
Available in a special Bone White color to provide for a realistic fossilized finish for bone castings.
Mixing Instructions:
Pour the entire contents of Part B into the Part A container and slowly mix the contents for 3 minutes with a slow speed drill mixer. Avoid whipping air into the mixture and slowly pour the mixture into the mold.
Performance Properties:
| Test | Test Method Results |
| --- | --- |
| Compressive Strength ASTM D-695 | 20,000 psi (min) |
| Tensile Strength ASTM D-638 | 8,500 psi (min) |
| Viscosity | 5,000 CPS |
| Mix Ratio | 14:1 by weight |
| Pot Life | 30-45 minutes @70°F |
| Gel Time | 60 minutes |
| Cure Time | 6-8 hours |
| Packaging | Quart and Gallon Kits |
| Color | Off White and Bone White |
Customer feedback
Reviews
There have been no reviews for this product.